By Abby Cooper
Après, it's a ritual. And there is no reason to forgo this essential part of skiing/riding when the whole family is in tow. You'll find the gear shift into family-friendly mode is a smooth one here in Whistler, let's decode the transition for you and the crew.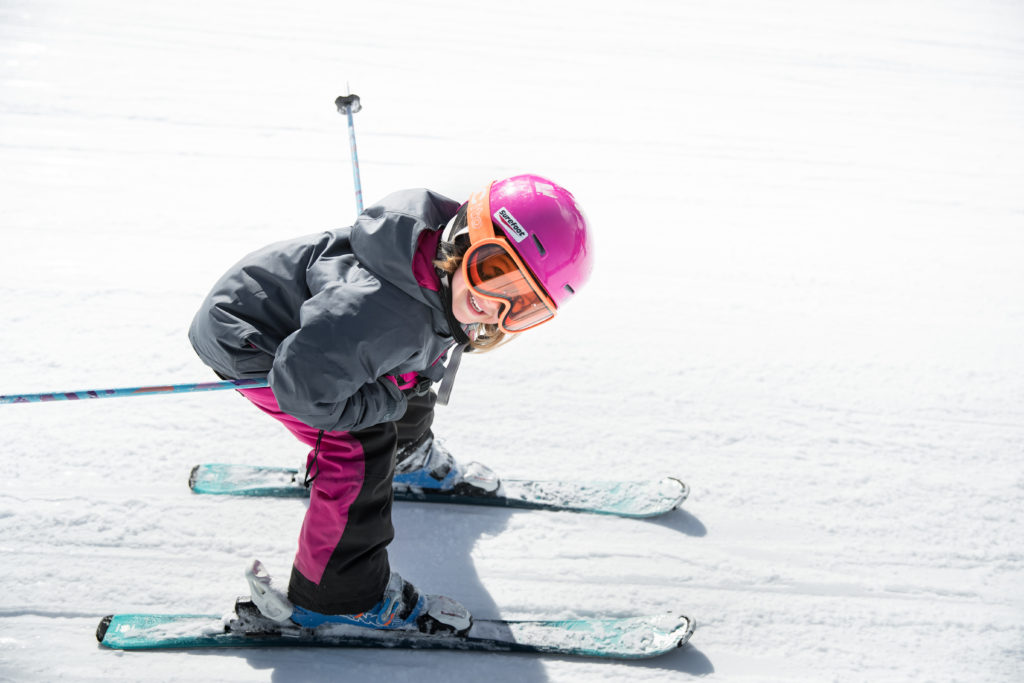 BEFORE YOU APRÈS WITH KIDS
In order to kick back and relish in the stories from the day with littles in the mix, you'll want to set the whole team up for success. But how? Follow these seven steps to après success.
WHERE TO: Read our list of "go-to" places listed below to know where you're headed at the end of the day. Having a flawless transition from skiing/riding to aprèsing is everything. Whisk your family away to what's next and keep the energy levels high by having your location predetermined.
DRESS FOR SUCCESS: You might be used to après in ski boots, but surely not every member of your crew is as seasoned as yourself. Bring extra shoes for apres and stay extra-long, it's math.
PACK FOR PEACE: Speaking of bringing things, a small bag with toys (depending on kids' age) and extra clothing is never a bad idea for the après scene, but heck, if you're bringing a pack, might as well keep some snacks in there to keep the energy high on the hill for all.
ON MOUNTAIN STRATEGY: Tire out the crew. Sleepy legs make for content humans. Squeeze in as many laps as your legs or the youngest member of the team's legs will allow.
KNOW WHEN TO CALL IT: End on a high note. If there's a temper tantrum brewing or a case of the "overtired crankies" setting it, call it.
WITHOUT DOUBT, DANCE IT OUT: Seek live music. Nothing like teaching them how to partake in après from a young age.
FOR THE KIDS THAT APRES HARD: If you manage to stay out to 7 pm, check out the Fire and Ice show at the base of Whistler Mountain. Fireworks, skiers, and riders jumping through a flaming hoop and great music – is there any better way to wrap up a thorough après session with than this?
KID-FRIENDLY APRES LOCATIONS
The après atmosphere you crave as an adult and one that the kids are not just welcome at, but they'll also enjoy. It's a can be a delicate formal to strike the right place for the whole family to enjoy after a day on the mountain, but we're confident that you'll be happy with any of these recommendations.
DUSTY'S: The indoor and outdoor picnic tables welcome groups of all ages with ease. The wedges are something out of this world that makes the smallest and largest appetites happy. The greatest part of dusty's is easily the live music that kicks off often.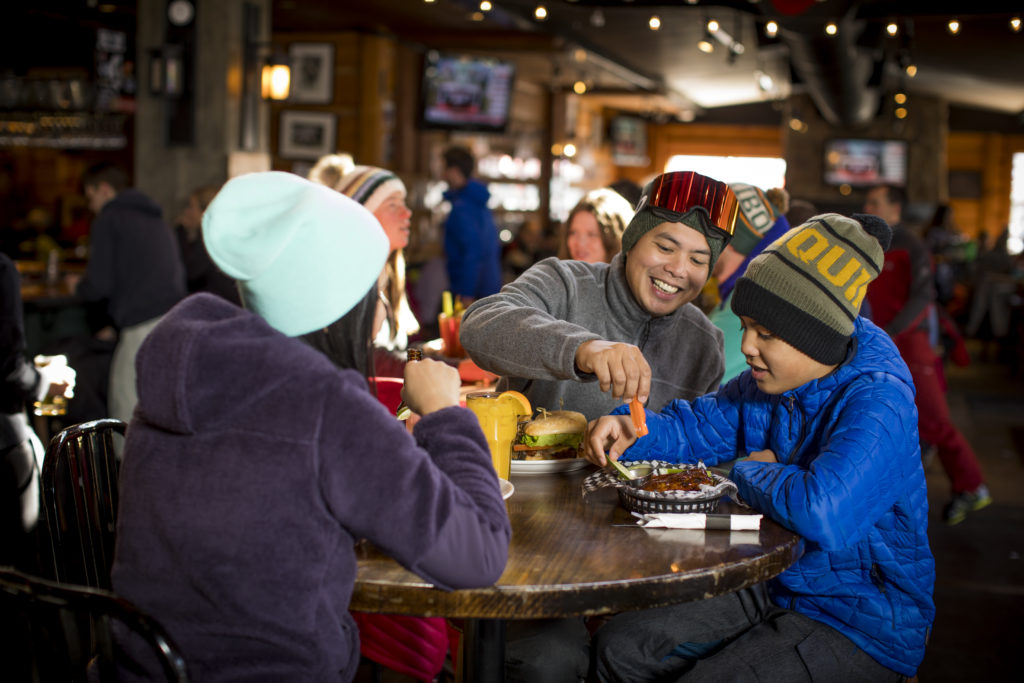 EARLS: Fine dining, incredible cocktails and ample room inside and out – a great place for the gang to get after it.
GARIBALDI LIFT CO: Ski right up to the patio, sit in the sun or cuddle by the fireplace – the outdoor atmosphere couldn't be more appealing tucked onto the base of Whistler Mountain. The GLC also has prime seats for the Fire and Ice show.
DUBLIN GATE: Why is it that Irish pubs make for iconic après spots but there isn't much skiing in Ireland? No need to solve the mystery, just embrace it at Dublin Gate. Right across from the Excalibur Gondola in the Whistler Village, the outdoor fireplace can accommodate a large group with ease while you soak in the evening sun and views.
MERLIN'S: Across from Magic Chair at the base of Blackcomb, Merlin's often has live music that will make even the smallest feet want to dance.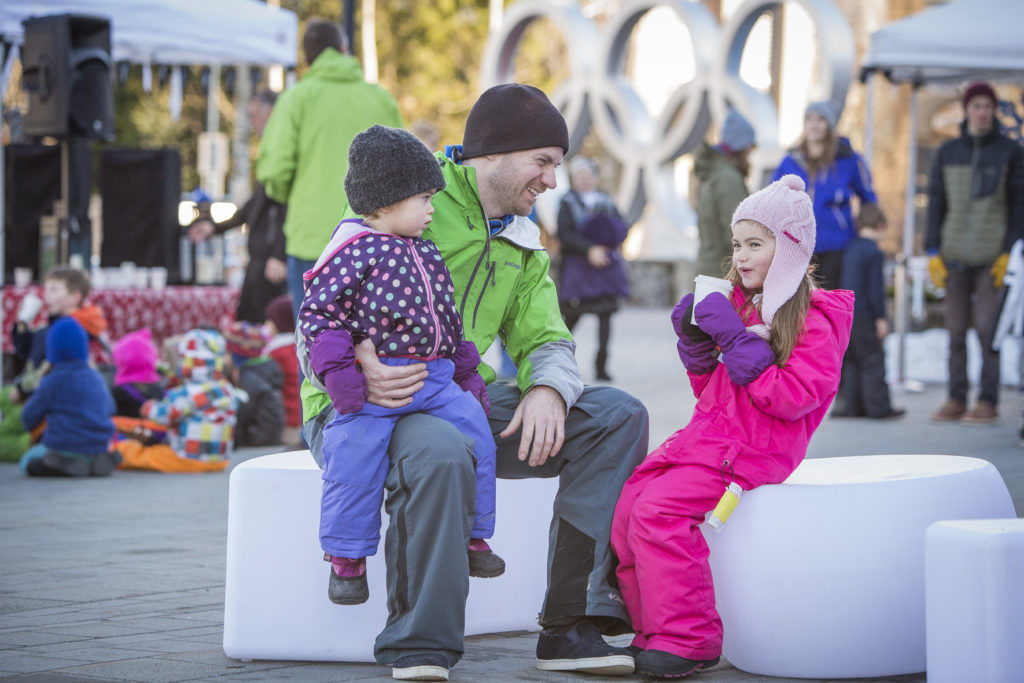 KID SPECIFIC
In pursuit of keeping the littles the happiest of campers after a day on the mountain can be a wise priority. Who says après must have adult beverages? It's a celebration of a great day no matter what's in your hand to cheers. The Resort Municipality of Whistler hosts weekly and seasonally bi-weekly "Family Après" in the Olympic Plaza. There's a combination of live music, art, and a variety of rotating interactive experiences. Every Monday and Wednesday day from January 6th to March 25th from 3-6 pm. While you're in the Olympic Plaza, snag one of Whistlers' best hot chocolates in a reusable mug from Blenz Coffee Co and go for a skate (rentals available) or tubing on the seasonal hill on the "Great Lawn." The tempting "Great Glass Elevator" candy shop is a temptation not just for the kids – embrace your inner child and celebrate après with a sweet treat instead of a drink.