Do you feel as though you've plateaued with your skiing? Perhaps you want to gain more confidence skiing trees, steeps, or powder? Explore new terrain or learn techniques to excel in challenging snow conditions? The top female instructors here at Whistler Blackcomb come together each month to provide The North Face Women's Ski Camps. With two mountains, lift line priority, and an awesome group environment – The North Face Women's Camp is the perfect place for female skiers to up their game.
Two full days with our top female coaches, in a safe and motivating environment, will help you expand your terrain and develop your skills. The North Face Women's Ski Camps offer clinics that are tailored to each ski level and ability, designed to help you gain confidence and improve your ability, no matter what your level of skiing.
You will discover the best of Whistler and Blackcomb's awesome terrain with our dedicated female coaches there to guide you every step of the way. Whether you need a little encouragement to hit that drop, technical equipment advice, or healthy dose of turn-bad-habits-into-good-habits intuition, our instructors have the years of experience and local knowledge to provide you with an environment you can't get elsewhere. After two days with your group, you should be charging confidently down your local terrain with a whole new set of skills and newfound confidence.
DAY ONE – SATURDAY
9:00am Meet outside Merlin's at Blackcomb, geared up and ready to ski. Connect with your awesome squad of female coaches and discuss your goals for the weekend. The coaches will assign you an instructor and group based on ability.
11:30am Lunch break on Blackcomb – be sure to make a reservation, available online or through your EpicMix App.
12:30pm Back on the snow for some more shredding.
3:00pm Recap skills learned and decide on a plan for tomorrow! Ask our coaches for their recommendations for après.
DAY TWO – SUNDAY
9:00 am Meet at Whistler or Blackcomb with your new girl gang. Discuss a plan for the day and any aspirations you may have.
11:30 am Lunch on Whistler (be sure to book!)
12:30pm Back on the snow. Powder, bumps, trees, wherever your group decide!
3:00pm Finish your day, apply the amazing skills you've learned to your last run, and take home some North Face swag!

How to get the most out of your women's camp: advice from local skier Christie.
Get ready to meet the raddest coaches of your life! These camps give you a chance to forge a strong camaraderie with peers and coaches alike in this unique learning environment. A common complaint among skiers is the difficulty of finding peers with similar skiing goals and interests, and that's why The North Face Women's Camp is here.
Bring a positive attitude, a willingness to learn, and set some goals before you arrive. Giving the coaches an idea of what you want to achieve during your camp will help to structure your weekend and help the coaches focus on what is important to you.
If you need to rent your gear, be sure to book in advance online at epicmountainrentals.com the day before your reservation. The Blackcomb Daylodge has a large fleet of high-end rentals to help you find equipment best suited to your skill level and skiing style, as well as the changing conditions. Your reserved rentals can be picked up anytime after noon on the day before your reservation date. Remember, guests must wear masks at all times inside our rental locations!
Face coverings can get soggy after a full day of fun, so it's best to bring a buff for morning, one for afternoon and a mask for your meal breaks indoors. If you want to bring a small hand sanitizer in your pocket, your instructor can refill it as needed. Instructors will carry wipes this year for added protection too.
Stay fed and watered. You must make a reservation for on-mountain dining before you arrive this year as the mountain is preparing the tables to ensure you remain physically distanced. You can reserve the three lodges mid-mountain on the morning of, beginning at 7am, or reserve Merlin's, the GLC or Dusty's in advance here. Bring water and snacks to fuel yourself whilst skiing. A little water pouch in your pocket can go a long way as you spend your day playing in the snow.
Both The North Face Women's Camp and Showcase Women's Snowboard Camp launch January 8, 2021. This year, the camps will run on the following dates:
9-10 Jan
28-29 Jan (Thu, Fri)
30-31 Jan
20-21 Feb
6-7 March
20-21 March.
Book your camp today and take your skiing to the next level. You can book your camp here by selecting one of the dates above.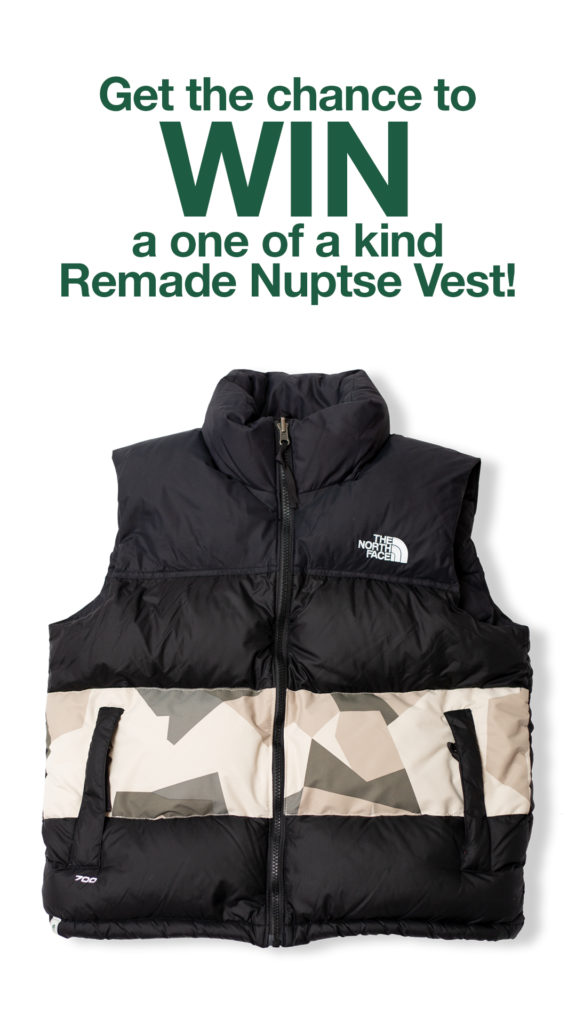 GET THE CHANCE TO WIN A ONE OF A KIND REMADE NUPTSE VEST FROM THE NORTH FACE.
Our community needs a little bit of love this season, so The North Face is giving a smile for the New Year! Enter to win a one of a kind Remade Nuptse Vest from The North Face.
How to enter:
· Click the link below and complete the form with the requested information.
· Follow The North Face Whistler store on Facebook and Instagram @Thenorthfacewhistler
The contest will run from January 8th to January 22nd, 2021
Enter the contest here: https://remadecontest.com/whis