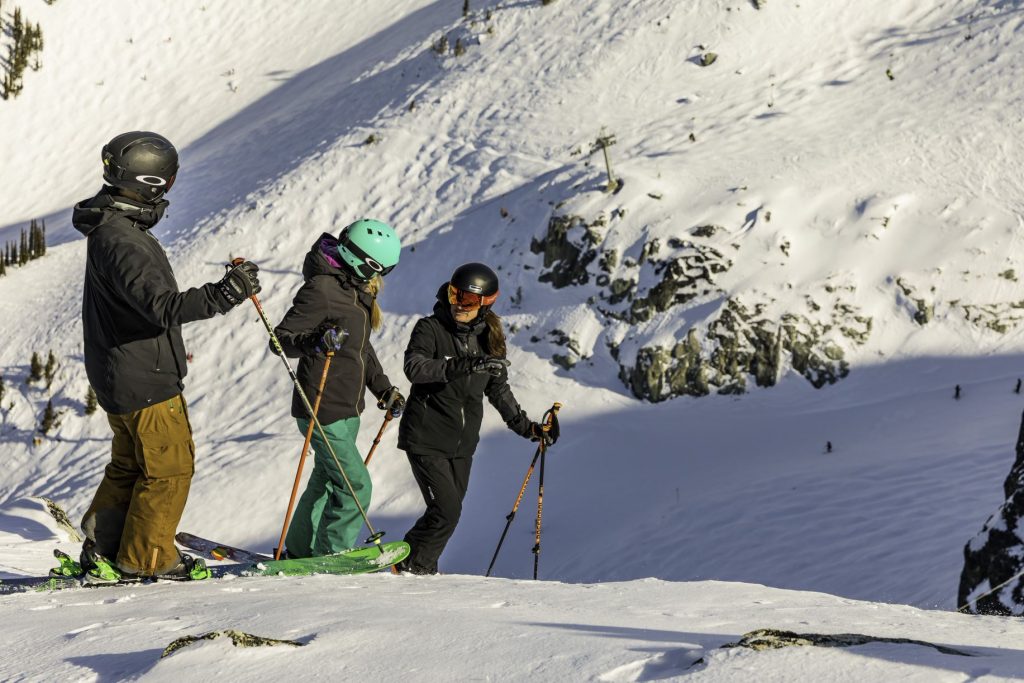 Skiing Whistler Blackcomb in British Columbia, Canada, is the experience of a lifetime and should be on your must-do list, no matter where you live. This international ski resort is a spectacular destination, and there are good reasons it's so popular. 
As the largest year-round outdoor resort in North America, Whistler Blackcomb offers a wide range of activities beyond skiing. But winter sports take the spotlight and are part of what makes Whistler unique. 
What Type of Terrain Does Whistler Blackcomb Have? 
The terrain is distinct in different areas, thanks to Whistler's location in the Pacific Coast Mountain Range. It covers 3,306 hectares and includes both Whistler Mountain and Blackcomb Mountain. It's known for some of the most varied terrain out of all the ski resorts in the world. Here's what you'll discover: 
Gentle slopes for beginners 

Steeps 
Cliffs 
Chutes 
Tree runs 
Five terrain parks 
Everyone is at home here, whether they're just starting out or already experts. There's a trail for everyone. In fact, you'll find over 200 runs to choose from, so there's no chance you'll get bored. 
Whistler Village: The Ins and Outs 
Whistler Village is just as unique as the rest of the resort. It's a pedestrian-only space, so there is no need to worry about vehicles. You can actually ski right down the mountain and into the village. 
Within Whistler Village, you'll find everything you could want to keep you occupied. Shops are spread throughout the town, offering souvenirs, clothing, jewelry, and more. You can also dine at some of the best restaurants in the country on these curving paths. The GLC (Garibaldi Lift Co) is a top spot for après—consistently ranked the #1 après bar in North America. 
Some clubs and bars are open for those interested in nightlife far into the night. You can even play things down with a trip to the cinema for a movie before heading back to your lodgings for the night. 
You can choose accommodation from condos, apartments, ski lodges, and hotels. Which option works best for you? Your stay will be delightful with so many choices and nearly all resort amenities rated at the luxury level. 
What Makes Whistler Unique? 
Skiing Whistler Blackcomb allows you to take in two huge mountains and ski the same slopes Olympians skied in the 2010 Winter Olympics. It's the most impressive ski resort in North America and has done a lot to live up to that reputation. 
Whistler is just two hours from the coast, and thanks to the moisture, the mountains see plenty of snow, making it ideal for skiing. The high precipitation also means the ski season often lasts much longer than in other areas. In addition, Blackcomb Glacier and Horstman Glacier are permanent snowfields that keep the area cool and snowy. 
If you want to travel from one mountain to the next, it's as simple as taking the PEAK 2 PEAK Gondola. But don't think of it as mere transportation — it's an experience. You'll be awe-inspired by the incredible views, and that alone is one of the draws to this part of the world. 
Tips for Skiing Whistler Blackcomb 
Start at the Magic Chair on Blackcomb for a quiet learning or warm-up space if you're a beginner or haven't skied for a while. Whistler's Olympic Chair area can be busy, but it's easily accessible and offers more beginner runs. Blackcomb is definitely the place to be if you want to test things out on your own over a few gentle runs. 
For more advanced skiers, every chairlift will take you to a good intermediate run. When you've mastered those, you might be ready for the black diamonds. Experts will want to check out the mogul runs, the steeps and chutes, and Glacier and 7th Heaven for the most exciting trails. 
Don't forget to sign up for Snow School if you're just starting or need a refresher. While classes for children are popular, plenty of instructors are ready to help adults. If you're more experienced and adventurous, consider jumping into the Extremely Canadian programs, where you'll really experience the extreme side of skiing. 
For the ultimate Whistler Blackcomb ski and snowboard experience, take a Whistler Heli-Skiing day trip up the mountain. You'll soar beyond the lifts and get dropped off in the middle of over 400,000 acres of pristine, untouched backcountry terrain. 
Your experience skiing Whistler Blackcomb is bound to be exciting, but taking these more extreme options is the adventure of a lifetime. For more advanced skiers, there's nothing like skiing down the mountain on virgin snow after a helicopter has taken you beyond the point where all other skiers are hanging out. 
If you're organizing a trip to Whistler, plan well in advance and make any dinner reservations you may need. You'll easily find outstanding dining options without them, but the best restaurants here fill up fast. You'll need to call ahead of time if you want to ensure a good table and a fabulous time. 
Above all, don't forget to savor the natural beauty that surrounds you at Whistler Blackcomb. Enjoy it in every way, and step out of your comfort zone for the most memorable experience ever.