Want to do a family vacation in Whistler like a local? Learn from a few Whistler pros, who also happen to have kids. Here are ten keys to unlocking the perfect family ski vacation at Whistler Blackcomb.
1. BOOK EARLY AND KIDS SKI & RENT FOR FREE
---
This might be the most important tip in the entire list…book your trip before November 15, and children 12 and under will stay free, ski/ride for free with every adult lift ticket of three or more days, and receive free ski or snowboard rentals with every adult rental set of three or more days.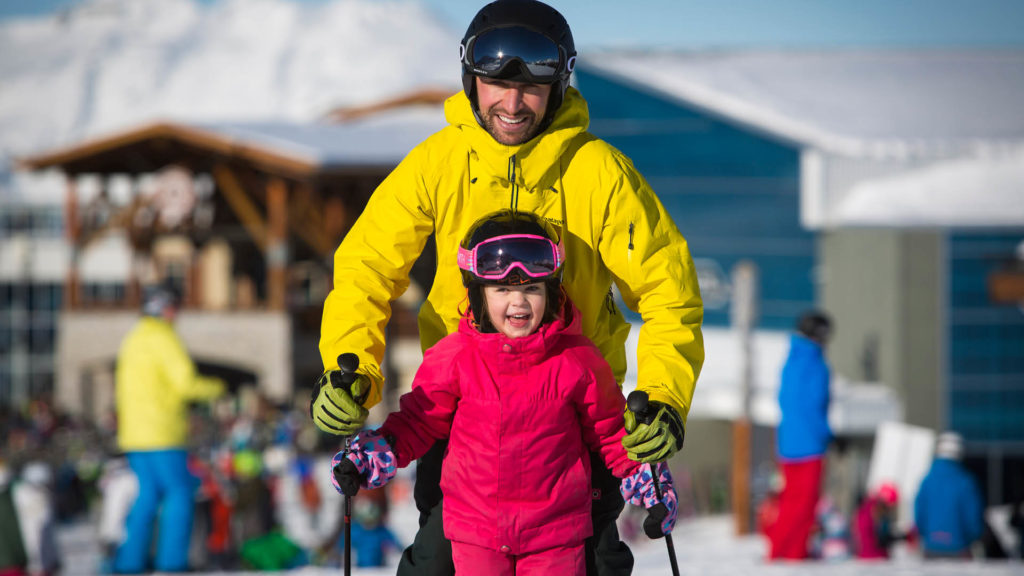 P: Justa Jeskova
2. CHOOSE THE RIGHT ACCOMMODATION FOR YOUR VACATION STYLE 
---
Depending on the age of your kids and your crew's interests, one of Whistler's accommodation zones will be a perfect fit. Creekside and Upper Village have wonderful options for families that prefer a quieter scene, big outdoor pool complexes and condo options with kitchens, while the Village is a buzzing hub of activity that older kids adore.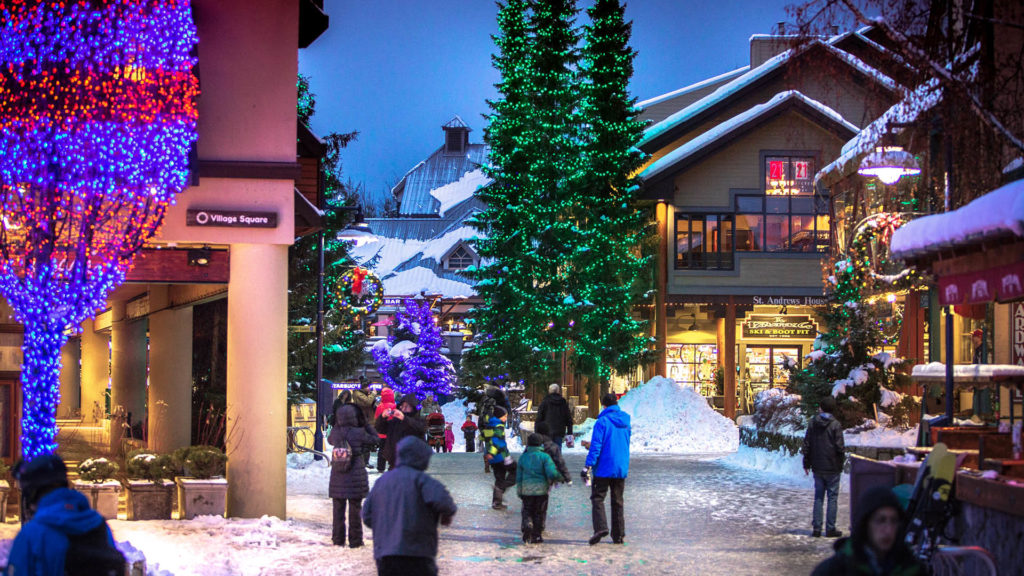 P: Paul Morrison
3. BOOK LESSONS FOR YOUR KIDS CLOSE TO YOUR HOTEL
---
Did you know Whistler Blackcomb offers Adventure Camps that run for three or five days with the same instructor for the duration of the camp? Book Whistler Kids (for village accommodation), Blackcomb Kids (Upper Village accommodation) or Creekside Kids (Creekside accommodation) for painless drop-off and pick-up each day.
"Having the right instructor makes all the difference in the world to a kid. Every time my 8-year-old daughter showed up at Creekside and saw her instructor, Honza, her face lit up and we knew it would be a great day." –Mike Douglas, Godfather of Freeskiing and Dad.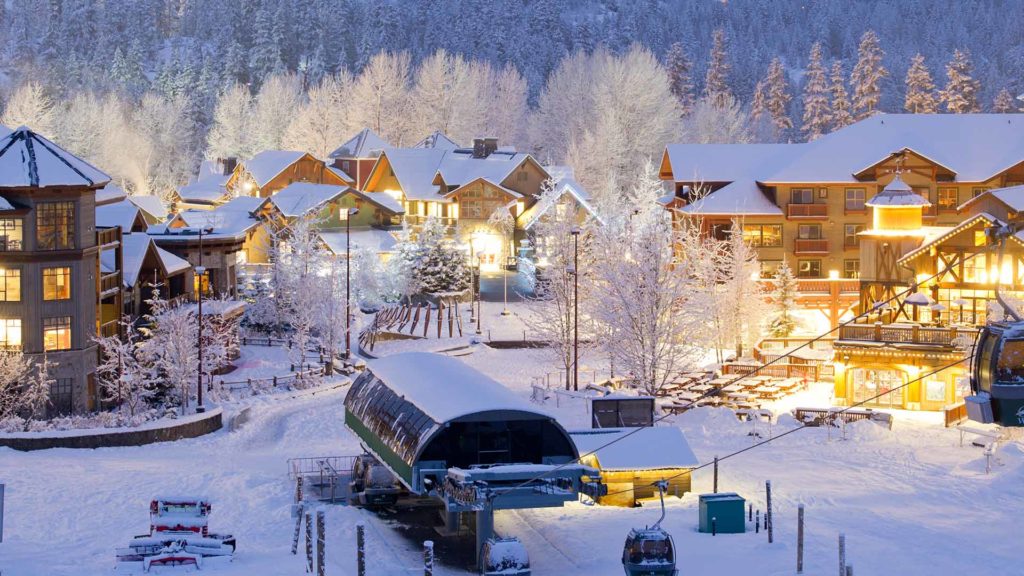 P: Mike Crane | Tourism Whistler
4. SKI LIKE AN OLYMPIAN
---
Whistler's ratio of "normal people" to Winter Olympians is out of this world; there is a very real chance of running into past, present and future Olympian and Paralympians in the lift line on any given day. There are a total of 13 Olympic and 5 Paralympic ski and snowboard athletes from the Sea to Sky Corridor alone who competed in the 2010 Winter Games! If you want to guarantee skiing or riding with one of these athletes book your family (must have similar skiing ability) into the Ski Or Ride With An Olympian package through Whistler Blackcomb's Snow School.
"I love that Whistler draws the world's best instructors and coaches thanks to its unparalleled superiority. I may be slightly biased, I'll be the first to admit it… but I will always stand behind my claim that no other ski resort compares, all around." –Ashleigh McIvor DeMerit, Skicross World Champion & Olympic Gold Medalist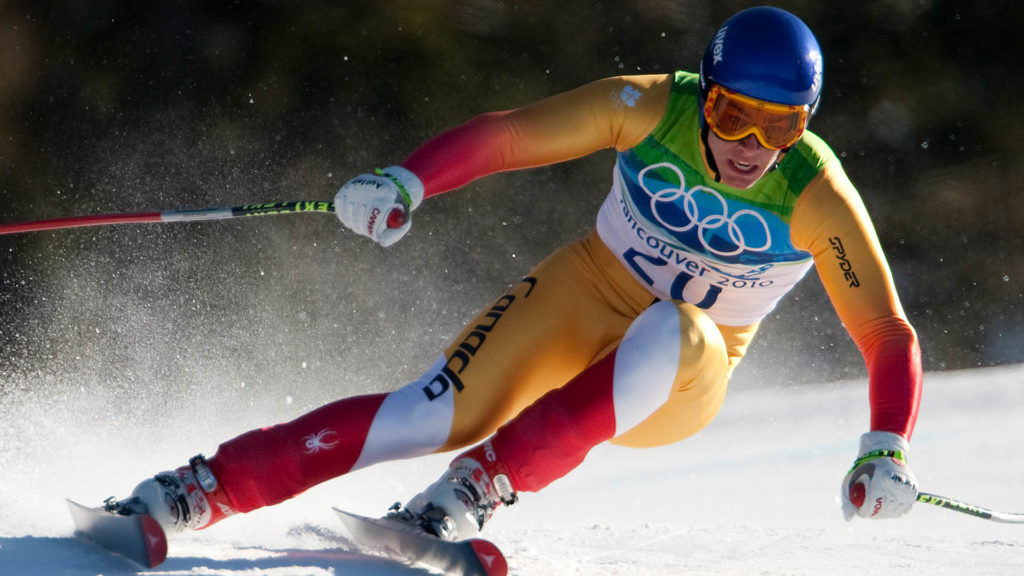 P: Paul Morrison
5. DISCOVER MAGICAL PLAYGROUNDS IN THE FOREST, BUILT JUST FOR KIDS
---
There is literally nothing cooler to kids then zipping along a tight forest trail and happening upon a Magic Castle (Blackcomb) or Treefort (Whistler), built just for them.
"Having them tucked away in the forest just adds to the mystery and fun. It's even kind of cool for the parents." –Mike Douglas, Godfather of Freesking and Dad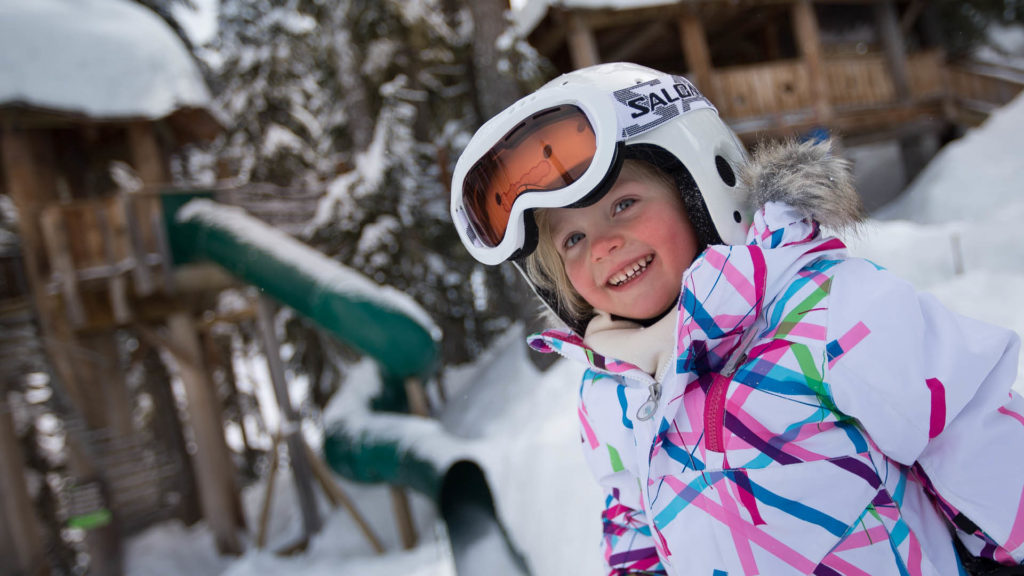 P: Paul Morrison
6. FUEL UP AND FILL UP TO MAKE IT FROM FIRST TO LAST CHAIR 
---
Find nutritious and filling combo meals on-mountain with kid sized portions of regular menu items and healthy snacks. These "Family Certified" meals make lunch a breeze for even the fussiest eaters.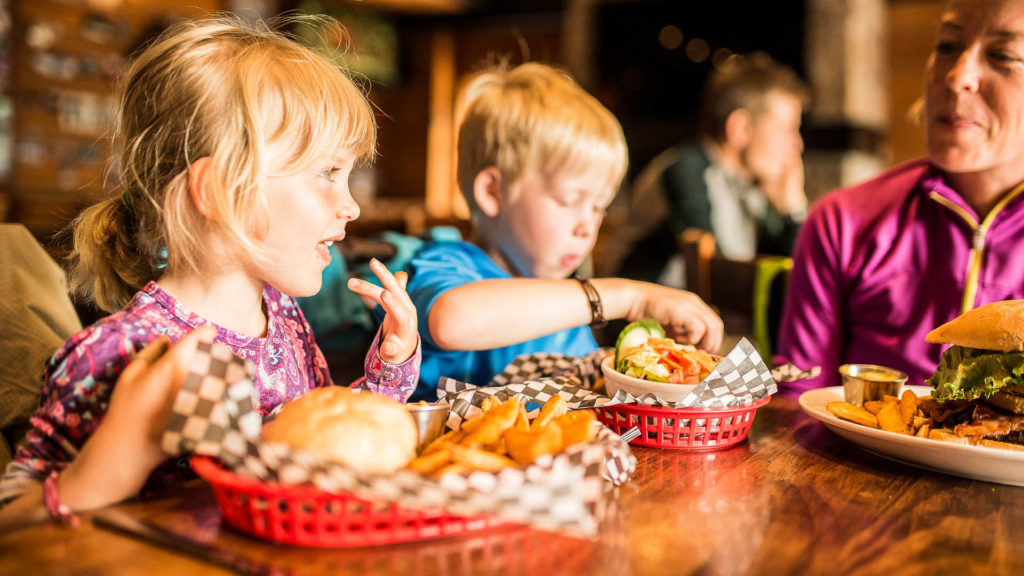 P: Paul Morrison
7. FIND YOUR FAVOURITE RUNS ON THE MOUNTAIN
---
The beauty of choosing the biggest and the best resort in North America means your family has the biggest and the best terrain to explore. Don't forget to look for specially designed Family Zones on the mountain.
"Do you remember enjoying mazes as kid? I remember feeling like the ski runs were like mazes from a fantasy dreamland, where there were no wrong turns or dead ends. It was like an enormous choose-your-own-adventure roller coaster." –Ashleigh McIvor DeMerit, Skicross World Champion & Olympic Gold Medalist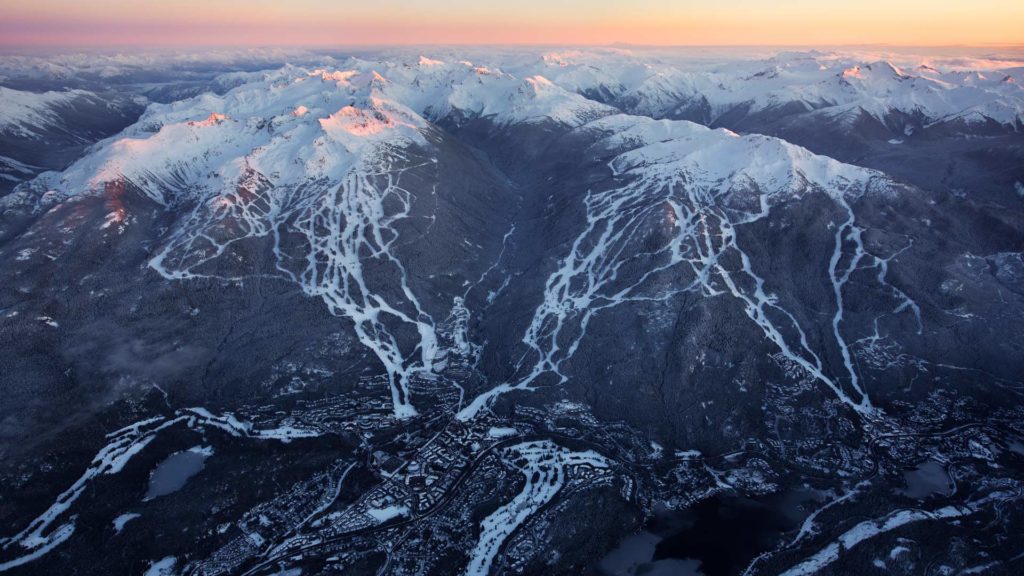 P: David McColm
8. DON'T FORGET TO APRÈS
---
Whistler is known for their après scene and families aren't left out in the cold. Dusty's Bar & BBQ (Creekside), Merlin's Bar & Grill (Blackcomb) and the GLC (Village), are kid friendly until late and usually have live music for some ski boot stomping good times.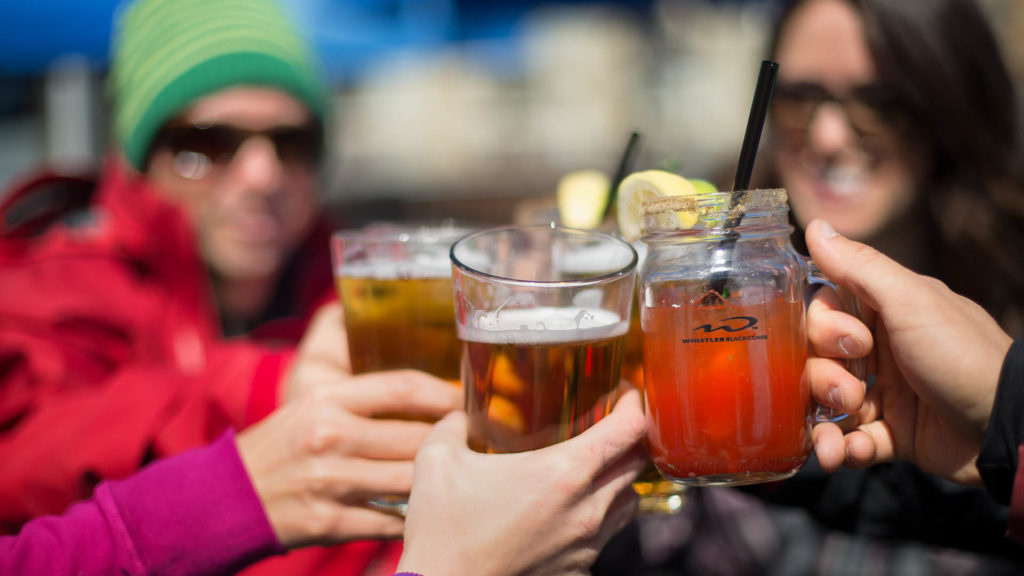 P: Paul Morrison
9. EXPLORE WHISTLER'S NIGHTLIFE FOR ALL AGES
---
Whistler's nightlife rocks for kids too! Whistler Blackcomb's Coca-Cola Tube Park is open into the evening, and features seven lanes of snow tubing, starting with a gently sloping kids' lane and moving up to faster and longer lanes. Sunday evenings the free Fire and Ice Show takes place at 6:30pm where families can be dazzled by fireworks, and skiers and snowboarders getting huge air through the Ring of Fire. For good old Canadian fun, the Family Après event (4-6pm) takes place on Mondays and Wednesdays through the winter in the heart of the village at Whistler Olympic Plaza. Think snowman building, tobogganing, mini hockey and hot chocolates all around.
"My childhood memories from growing up in Whistler recall it to be a magical existence with endless possibilities and opportunities for fun, healthy, active living." –Ashleigh McIvor DeMerit, Skicross World Champion & Olympic Gold Medalist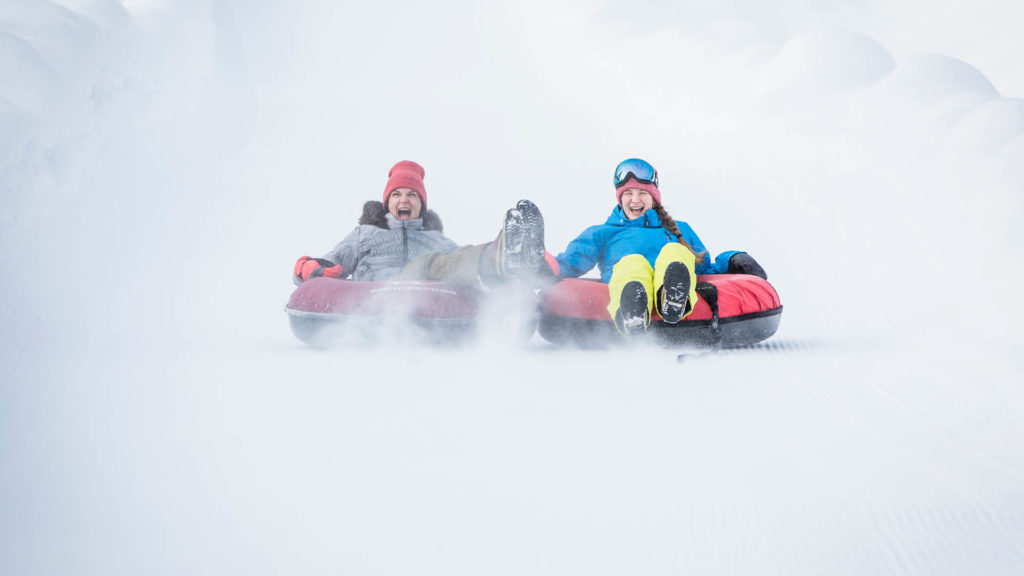 P: Justa Jeskova
10. IGNITE THE OLYMPIC SPIRIT
---
After hosting all Alpine skiing, Nordic and Sliding events for the 2010 Winter Olympics, Whistler is home to venues and experiences designed to ignite the Olympic spirit and passion for winter sports.
"Challenge the family to try something new, whether it is a high speed slide at the bobsled track or heading out to the Callaghan Valley to experience Nordic sports for the first time at Whistler Olympic Park. Whistler has created some of the most spectacular ways to participate in activity while being completely connected to the spirit of these mountains and this valley."  – Britt Janyk, 2010 Olympian in Alpine Skiing and Mom
P: Toshi Kawano | Tourism Whistler
11. ALWAYS (ALWAYS!) MAKE IT FUN!!
---
From using french fries as bribery to complete one last run or hitting up the Treefort every second lap, the key to a successful family ski vacation is to keep the good times rolling! While Whistler Blackcomb is vast there is always a cozy little hut around the corner for a break and a mug of hot chocolate to lift spirits and get a little sugar boost.
"My Mom says that's the key to raising good little skiers: keep it positive!  If your kid wants to go in for hot chocolate, go in for hot chocolate!" -Ashleigh McIvor DeMerit, Skicross World Champion & Olympic Gold Medalist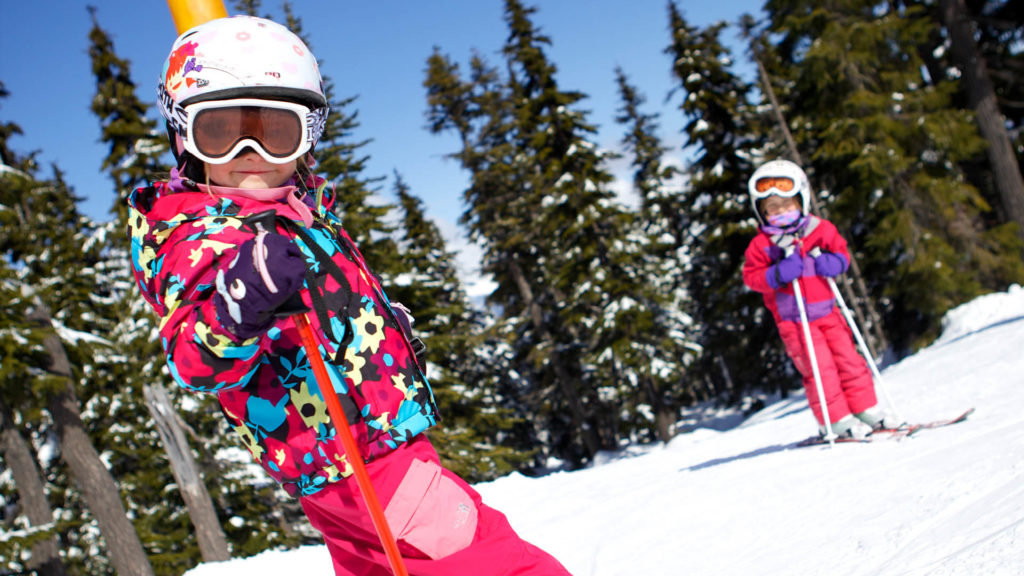 P: Toshi Kawano
Looking for more information? Our vacation experts are here to help you plan the perfect vacation. Give them a call at 1.800.766.0449.