Who says you can't have it all – the #1 Mountain Resort in North America at prices that could probably compete with your local "hill" (okay maybe that's a bit of a stretch, but not by much, as you're about to discover).
Time your visit for serious savings
---
They say timing is everything and that certainly applies to saving money at Whistler Blackcomb. For the biggest savings, those in the know consistently book their stay during either (or both) the "Early Season" (late Nov to mid Dec.) or "Spring" (late March to closing).
In the Early Season, you'll find lift and lodging rates that are some of the best of the season. At Whistler Blackcomb, snowfall is consistently good at the start of the season and although there may not be enough to ski out to the bottom, the mid-levels and alpine will have more than enough to keep you happy. Two added bonuses of coming at this time: way fewer people vying for your piece of the mountain, and as you get closer to Christmas there will be decorations going up, music playing and enough atmosphere to make it feel like a holiday vacation even if it is just December 15th!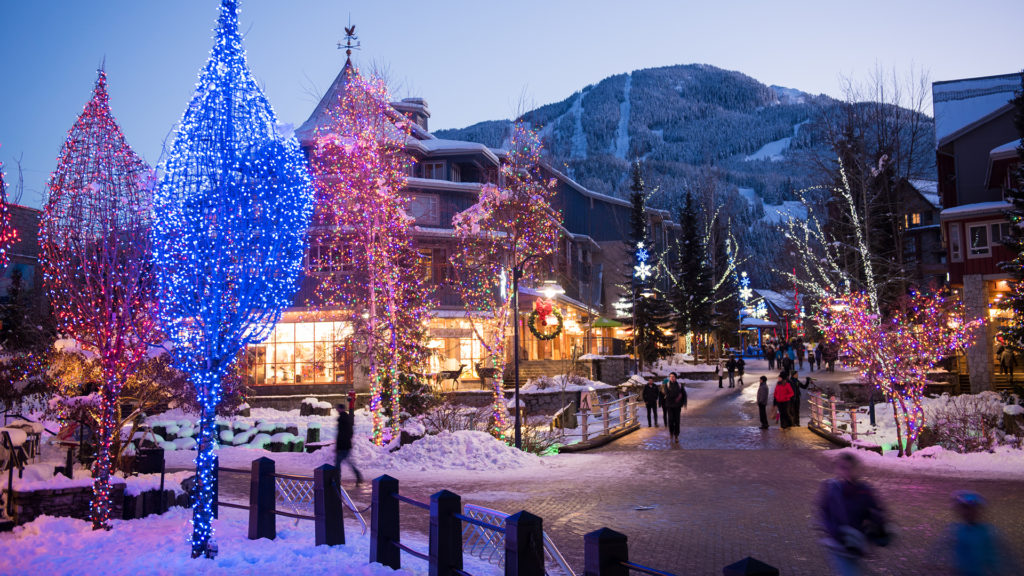 P:Mike Crane, Tourism Whistler
And then there's Spring! Who doesn't love long days (enough sunlight for an extended aprés on a sunny patio in the village!), warmer temps, fewer crowds, world class ski and snowboard festivals, and lots of deals on accommodation – plus, discounted lift tickets or spring passes.
Can't make it during these two deep discount periods? Not to worry- you do have options. For example, if you're prepared to commit well ahead of time, there are some really sweet "Early Booking Offers" with big-time savings. Start planning your visit during the summer to take advantage of the best rates you'll see all season, plus accommodation availability will be much wider giving you more options to choose from. These deals typically end right before the start of the winter season.
If you'd rather wait and see the snow fall, a quick getaway to Whistler is still possible with Last Minute Hotel Deals (available about three weeks outside the day of your arrival). The wrinkle is that you won't discover the name of the property you've been booked into until after making your reservation. It's actually kind of fun – you pick the area you want to stay in, the type/size of lodging you want, the "star" rating you're comfortable with, and the reservation folks come up with a perfect match. The great part is you'll likely be pleasantly surprised by the selected property, and you get to stay somewhere new you may not have thought to try yourself – that's why it's such a popular last minute booking choice!
As well, midweek lodging deals are there for the taking throughout the winter season, especially if you prefer staying outside the Main Village (at Creekside, for example), and you can avoid the weekend crowds.
Where to stay to save
---
One of the great advantages of vacationing at a place as large as Whistler Blackcomb is that, more than practically anywhere else, it gives you that all-important vacation planning ingredient – choice! And when it comes to accommodation, not only do you have every conceivable type of accommodation to choose from, there's also something to suit every level of travel budget.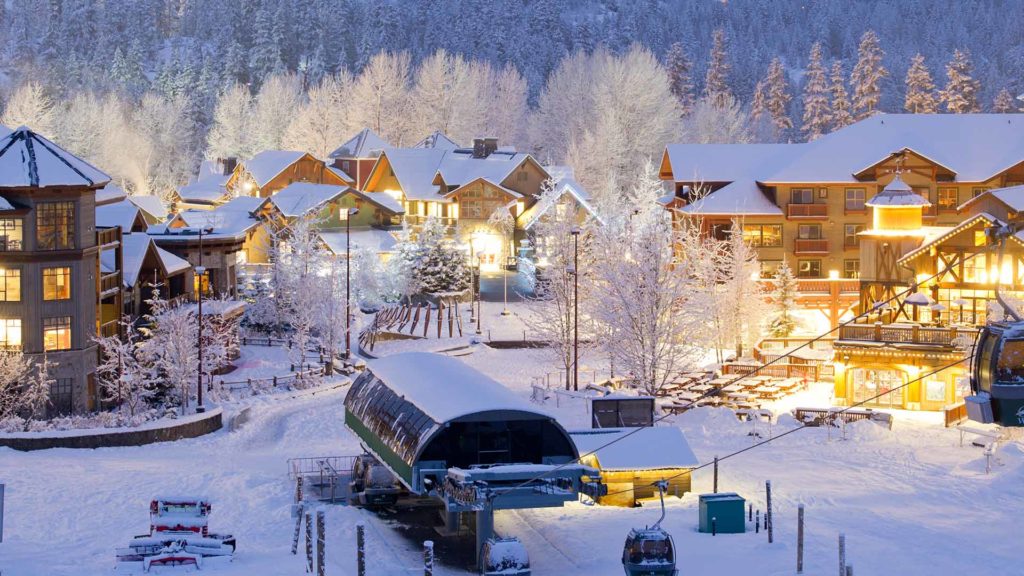 P:Mike Crane, Tourism Whistler
You may have heard that Whistler offers four distinct areas in which to stay, each with its own unique personality and advantages. Although you'll no doubt end up spending some fun times in the Main Village, it may not be your best choice if saving money is at the top of your list. The good news is that better rates are just a short stroll away in Whistler Village North, an ideal choice for families and groups looking for lower rates but with a great "village" experience. Another area that offers more attractive rates is Creekside – a completely separate base area that's just a 5 minute drive from the Main Village (and one of Whistler Blackcomb's best-kept secrets!). Creekside has all the amenities you could possibly need during your stay and is often a perfect fit for larger families seeking a quieter area with lots of affordable options.
For more information check out – Vacation Guide: Find Your Perfect Location
Our best money-saving tips : a quick hit list
---
Stay somewhere with a kitchen and do your own shopping – it's a great way to cut back on dining-out expenses.
Take advantage of Discover Whistler Days. These are the times when lessons are on special and they're a great way to save on a weekend of lessons for kids.
Book as early as possible. Even by pre-booking at least 3 days in advance in winter, you can still get a better lift ticket rate than paying at the window.
Deals are not limited to lift tickets. Different activities, shuttles and even car rentals, have special pre-booked rates and savings.
Take the shuttle from the airport. Most visitors have no need for a car once in Whistler as the main village is pedestrian only, and almost everything else is walking distance or on the free shuttle route. This saves you on rental fees and steep parking rates. Still not convinced? Learn about the benefits of a car free vacation.