Skiing or snowboarding with your arms full, carrying various items, can be cumbersome and unfashionable.  If you really need those particular items that day, but you'd like to regain the composure and grace you're usually known for, you may appreciate the assistance of a knapsack, which is a brand new type of pack you wear on your back.  Daunted by the seemingly endless possibilities?  Please don't be.  Here's a quick guide to steer you in the right direction, based on the type of day you're setting out to enjoy.
YOU'RE LEARNING HOW TO SKI OR SNOWBOARD
---
Everyone begins as a beginner; no way around that.  Here's some provisions that'll keep your learning graph appropriately curvy.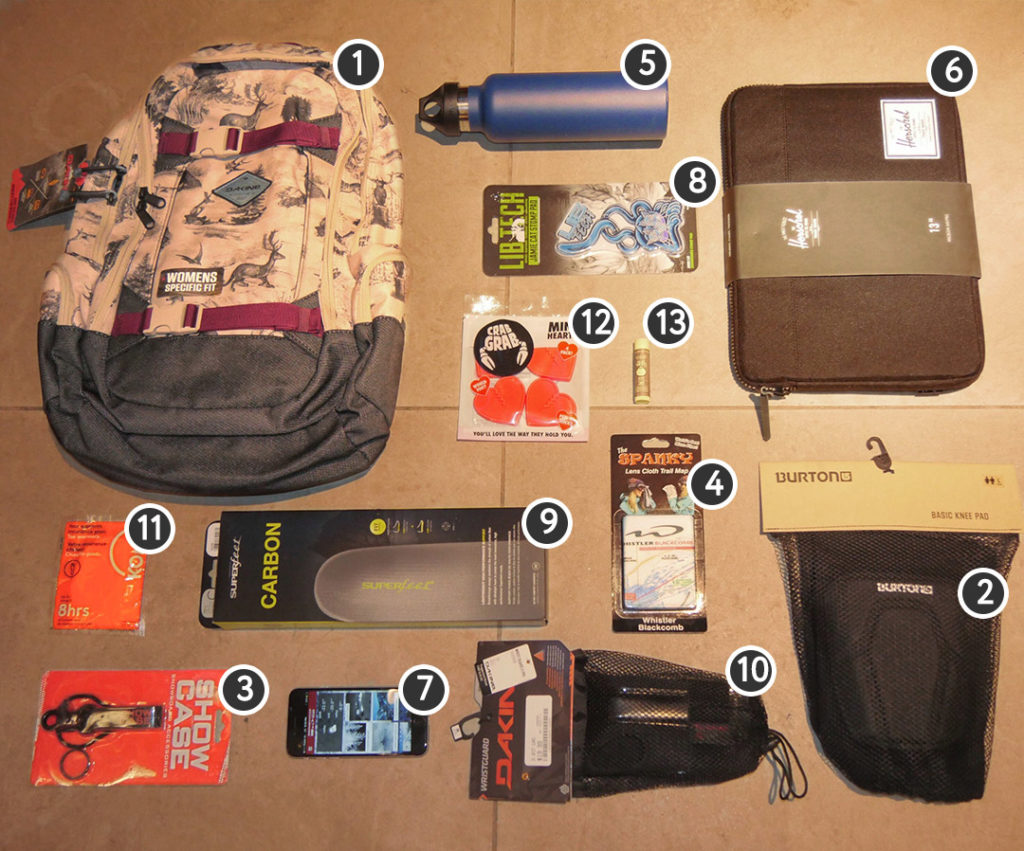 Dakine Team Mission — This is for holding things.
Burton knee pads — Make falling fun.
Showcase board leash — So your board doesn't go for a run without you.
WB Spanky — It turns out, a lens cloth trail map is exactly what it sounds like.  Double duty!
Water bottle —  Stay hydrated, friends.
Your laptop in a sleeve — In case you need to look up some instructional Youtube vids.
Whistler Blackcomb Live App — Keep track of your stats, the temps, and read The STASH.
Lib Tech stomp pad — Back foot traction for when you're mastering the chairlift dismount.
Superfeet insoles — You're new.  Give your feet every advantage you possibly can.
Dakine wrist guards — Injuries consider your wrists a major attraction.
Kombi toe warmers — On really cold days these are a godsend.
Crab Grab Mini Hearts — Here's some traction for your various grab zones.
Sun Bum lip balm — This one is SPF 30.  Wind and sun wreak havoc no more.
Get this at Showcase Snowboards
YOU'RE CRUSHING THE PARK (OR AT LEAST TRYING TO)
---
If it's sunny and you're running hot laps, you don't want to go goofing around in the Rendezvous with some issue or another.  Here's some stuff you'll need to stay focused-up.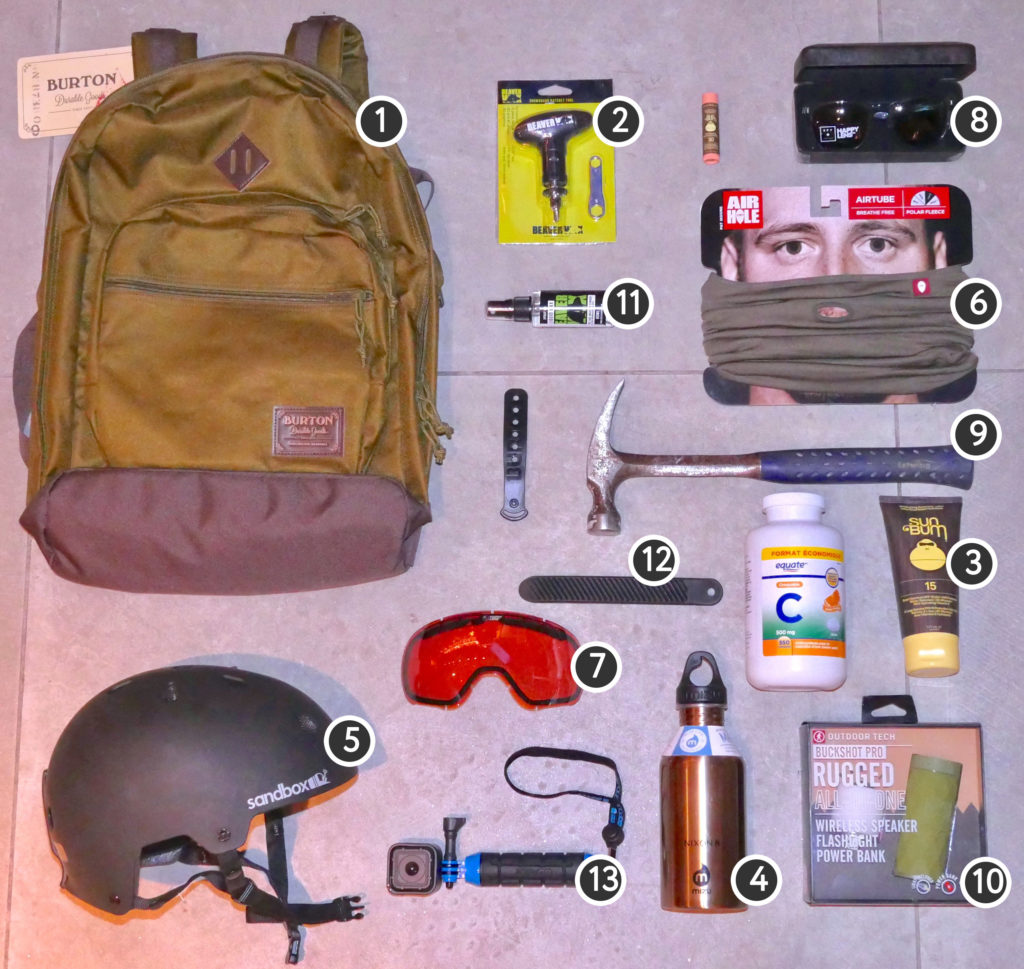 Burton Big Kettle — For transporting the precious cargo.
Beaver Wax rachet tool — Screws get loose; I've seen it!
Sun Bum sun protection — UV rays, what are they good for?  Regulating vampires, I guess.
Mizu water bottle —  Eight glasses a day might be the most helpful myth ever.
Sandbox helmet — You should already be wearing this, but you can't hit the left line in the Black Park without it.
AirHole AirTube — The best way tokeep your goggle tan in 2001, where it belongs.
Extra lens — Good to have a lighter lens on hand, in case the clouds roll in.
Sunglasses — For all the times you use your eyeballs, but don't want the goggles on.
Hammer — For dropping.
 Outdoor Tech Buckshot Pro — Charger, speaker, flashlight.  Well, you never know.
 Beaver spray-on liquid wax — If speed isn't your friend, you should at least be on nodding terms.
 Extra binding ladders — These break, that's life.  Having spares around can save your day.
 GoPro Session camera — Produce that content, get it out there and get paid.  Don't let the internet down.
 Stapler — Holds your lucrative contracts together, after you've signed them.
Get this at Showcase Snowboards
YOU'RE ROUNDING UP THE TEAM FOR APRÈS
---
One of the greatest parts of skiing and snowboarding is the company you get to keep while doing it.  Afterwards, perhaps you and these very amigos have some celebrating to do!  Merlin's, Dusty's, and the GLC are all happy to oblige.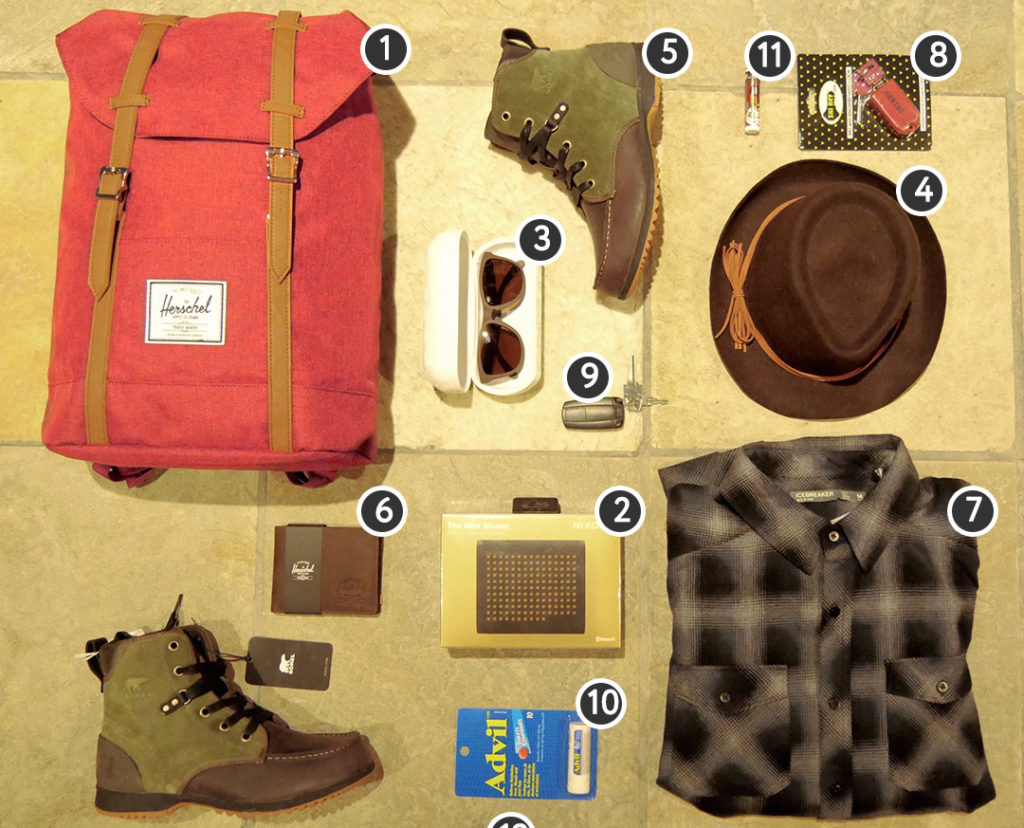 Herschel Retreat — For the containment of supplies.
Nixon Mini Blaster — This will help get the vibes going for friends who are still on the fence.
Oakley sunglasses — For when your goggles are on backwards and upside down.
Pistil fedora — Nothing delights friends like having a change of fancy headwear.
Sorel boots — Lightweight, waterproof, and better at navigating the dance floor than your ski boots.
Herschel wallet — Someone's going to forget theirs.  Don't let it be you.
Icebreaker button-up — A fresh shirt is key, especially if you're a close talker.
Ski Key lock — Don't stress about leaving your board or skis unattended late into the night.
Car keys — Depending on your après, you can go ahead and leave these in the bag until tomorrow.
Ibuprofen — Good for inflammation and hangovers.
Lip balm — Have you tried it?  It's the balm.
YOU'RE HEADING OUT FOR SOME BACKCOUNTRY TOURING
---
Safety first, ladies and gentlemen.  If you don't have proper avalanche training, then go get some!  But if you do, and the stars have aligned (but for some reason you haven't figured out what goes in your pack), we've got some suggestions. Backcountry bound? Know before you go.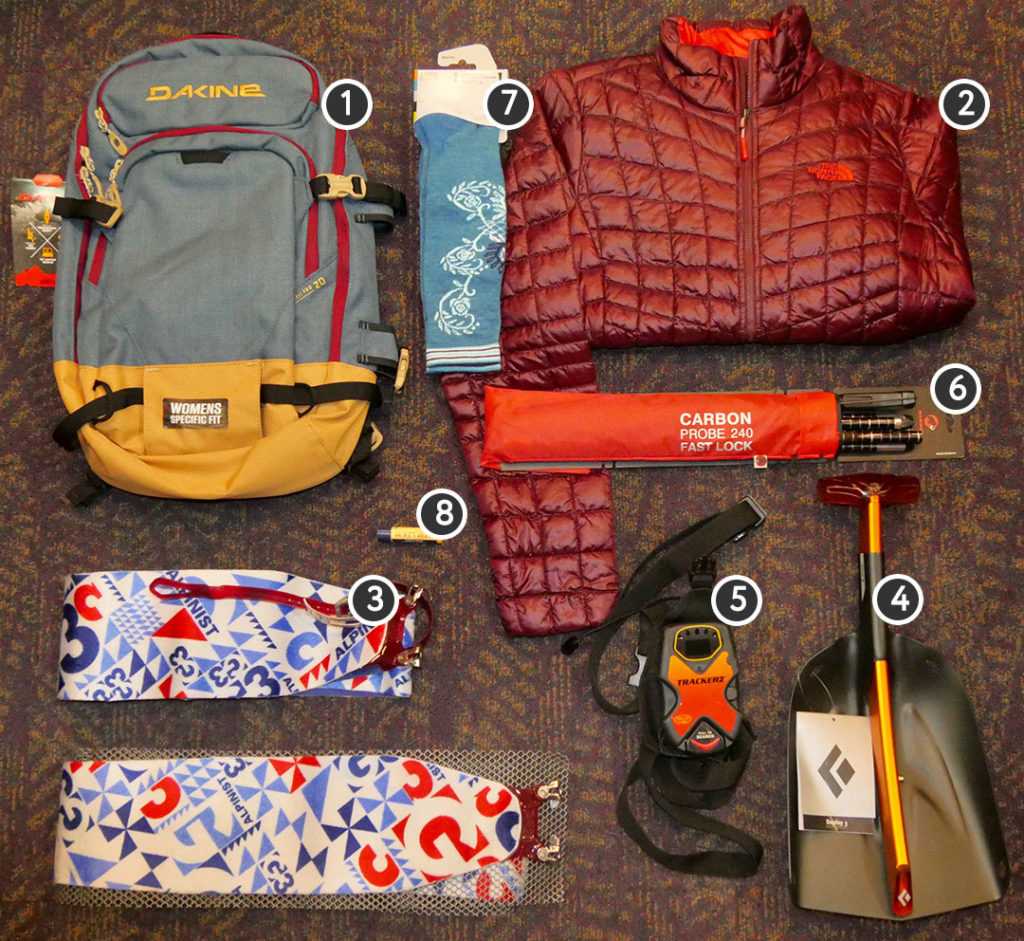 Dakine Heli Pro — For the carrying of the essentials.
North Face insulator — Packable, lightweight insulators can have a huge impact if the temps drop.
G3 climbing skins — Otherwise you're stuck hiking like a sucker.
Black Diamond shovel — This one compacts nicely.  And a trapezoidal shaft?  Count me in.
BCA avalanche transceiver — It's a team effort out there.  Don't be the weakest link.
Mammut probe — Remember the Ford Probe?  My friend Jen had one and it was the worst.
Spare Socks — A fresh pair can really provide a second wind, especially if the day becomes unexpectedly long.
Lip balm — The most reoccurring item in this post, welcome back.
(Not pictured) Food and water — Get that stuff in you.  Energy and hydration, that's the magic combo right there.  2017 won't be the same without it!