After two years of changing safety measures and pandemic restrictions, Whistler Blackcomb is celebrating a return to regular programming for Summer '22 with sightseeing, hiking, mountain biking and a full array of unique Coast Mountain experiences.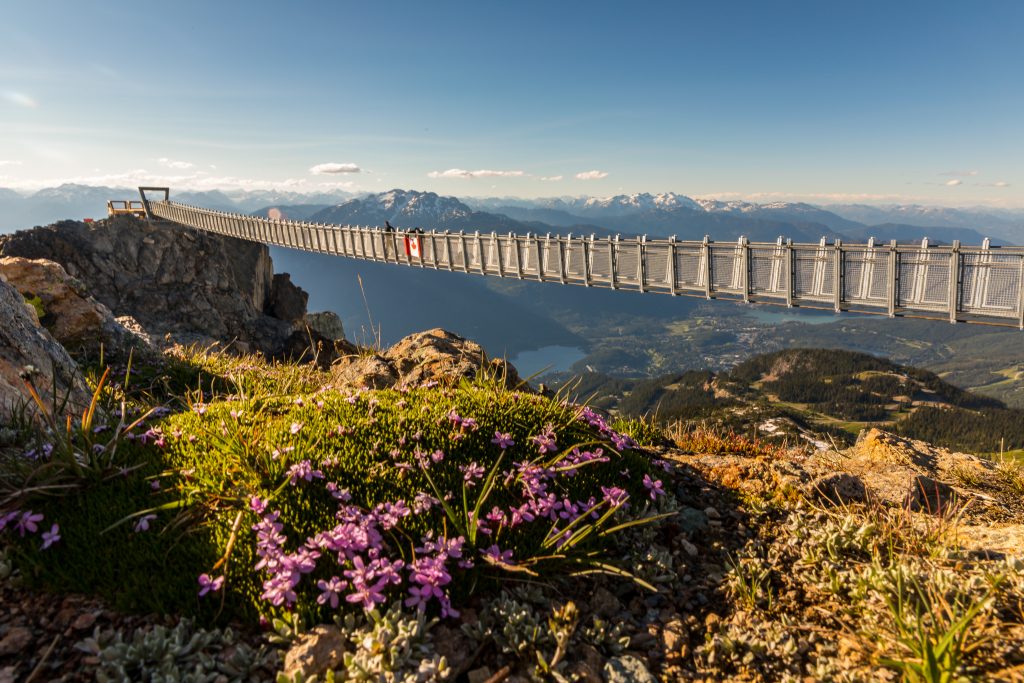 Take in the wildflowers, traverse a suspension bridge between mountain peaks and meet the little critters for whom Whistler is named as you bask in 360 degrees of breathtaking views.
"We know many of our summer guests might not experience an alpine environment without the ease of our lift system and well-manicured trails, so we're very thankful we can bring Whistler Blackcomb's full summer program back after two challenging years of pandemic operations," says Geoff Buchheister, Whistler Blackcomb COO.
New interpretive signage can be found at Whistler's peak, highlighting knowledge and stories from the Skwxwú7mesh Nation and Líl̓wat Nation, on whose unceded territory the mountains sit. Paired with original work by local Coast Salish artist Harry James, and detailed descriptions of the flora, fauna and mountain view-scape, the Peak will be ground zero for hikers and sightseers keen to traverse the 130-metre, world-renown Cloudraker Skybridge. The alpine suspension bridge opens for the first time since the outset of the pandemic, alongside the Raven's Eye cantilever lookout, and is sure to be a highlight of many guests' summer.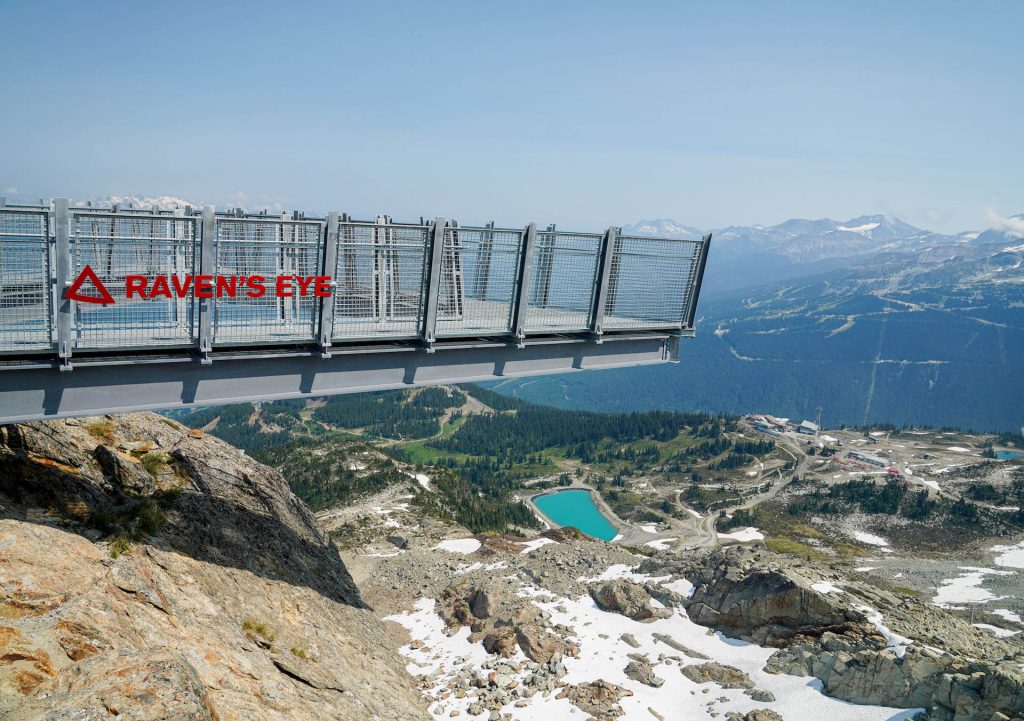 The other big news of the season is a largescale construction project underway to replace the Creekside Gondola and Big Red Express Chairlift. Part of a $320M Capital Investment Program for Vail Resorts, the new lifts will allow for future expansion of the Whistler Mountain Bike Park and faster upload from Creekside Village. Be sure to watch our social channels to catch highlights of big moments in our build.  
Summer sightseeing on the PEAK 2 PEAK launches May 20, with hiking trails opening throughout June and early July, as snowmelt permits. Be sure to watch the social channels for updates and join us for all the traditional summer favourites, including:
Whistler's giant snow walls. Catch a glimpse of the depth and characteristics of our snowpack. This winding labyrinth of snow trail cuts above Pika's Traverse, taking guests from the Roundhouse Lodge toward Whistler's Peak. Open for short period in early summer season, the snow walls are available only until snow melts—a true highlight each June.
With bears already emerging from hibernation, we're excited to welcome our popular bear viewing tours back for a closer look at the local black bears, with tips on how to conserve and help sustain the population.
The Mountain Top Summer Feast returns with extended hours on Whistler Mountain. The Whistler Village Gondola will spin until 8 pm, from Friday to Sunday, for this alpine BBQ, allowing more time to hike, sightsee and dine above the clouds. Please note, the Peak Express will spin daily from 11am until 4pm from June 18 onward, and offer extended hours Friday through Sunday until 5pm.
Join us all summer long at the Roundhouse Lodge Umbrella Bar and raise a glass against a backdrop of snowcapped peaks. Open for weekends-only from May 21 to June 18, the Umbrella Bar sets the stage for an après to remember all summer long.
Take time to smell the flowers. Whistler's alpine wildflowers typically bloom near to the end of July, but each year nature surprises us. Follow our social media channels for updates on how our season is progressing, then come check out the Pink Mountain Heather, Arctic Lupine, Mountain Monkey Flower and Western Pasqueflower—not to mention the views of our valley lakes below.
Looking for a thigh-burner? Test your mettle against the grinding gradient of the Blackcomb Ascent Trails, some 6.2km long with 1200-metres of elevation gain. This is a rare chance to enjoy easily-accessible old growth forest, and take in three biogeoclimatic zones as you climb the mountain and take breaks on our benches for views. Love the Grouse Grind? This one is for you.
Take in Crankworx Mountain Bike Festival, Aug. 5-14. One of the best lift-accessed mountain bike festivals in the world with every discipline of gravity-riding on display, it's easy to watch from Skier's Plaza or get out in the Whistler Mountain Bike Park and ride alongside the best in the world.
Purchase your '22-23 Winter Season Pass for Summer '22 access, or secure a 360 Summer Experience ticket or pass HERE.