Crankworx, it's back! And it's back with an extra loud bang. No doubt about it, Crankworx is one of Whistler's favourite events and we couldn't be more thrilled to have it back after a two-year hiatus. Whether you're a first-timer or a seasoned festival pro, let's get acquainted with the 2022 schedule, share some insider tips, and logistics worth planning around – shall we?
First things first. A little event history – it's a rite of passage. Crankworx was born right here in Whistler in 2004, part of the reason we are so dang proud of it. It is currently the largest event of its kind embracing multiple competitive bike disciplines including Slopestyle, Pump Track, Speed & Style, Downhill (DH) and Dual Slalom. Beyond the biking, Cranworx hosts a series of community and bike culture events including the local favourites, Dirt Diaries (video competition) and Deep Summer (photo competition). The ten-day stint encourages nonstop celebrations in the form of live music at local eateries, bike demos from a variety of bike manufacturers, riding and skill clinics, movie screenings, giveaways and more – the Whistler Village and Mountain Bike Park is contagiously electric. Crankworx curates a vent like no other with all ages, abilities and interest levels including hosting races "for amateurs, a category for CWNEXT athletes, the next generation of racers, Kidsworx contests for our youngest riders, participatory events, and celebrations of mountain bike culture, all while showcasing amazing destinations."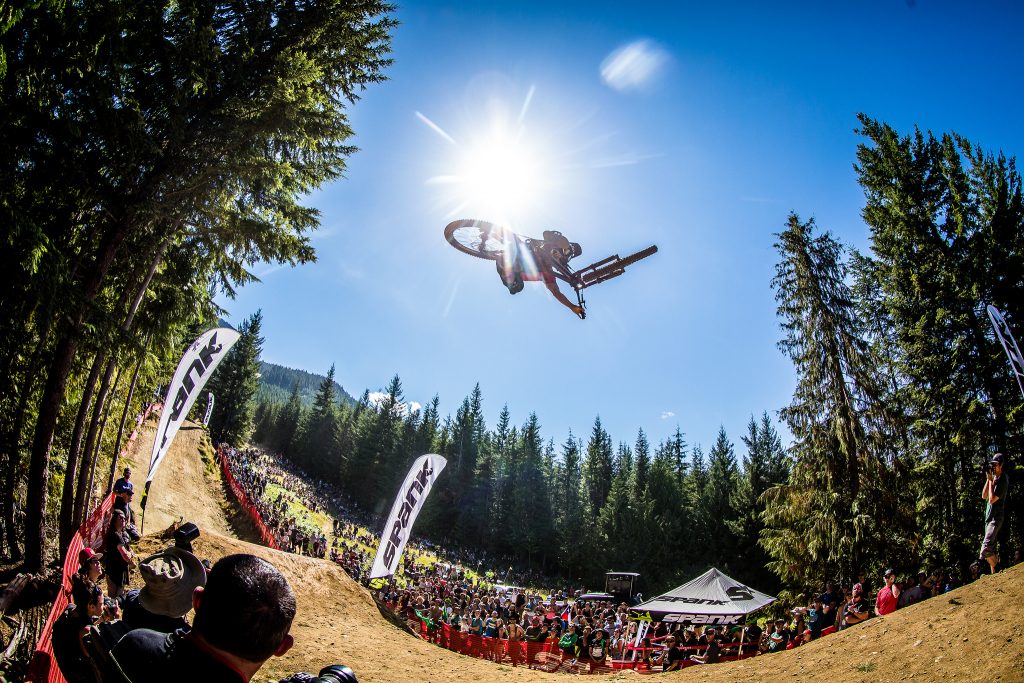 KNOW BEFORE YOU GO
First things first – Crankworx is FREE to attend! If you'd like to beat the crowds on the busiest days of the festival, https://www.crankworx.com/whistler/passes/. Lift tickets for the Whistler Mountain Bike Park can be purchased online and picked up at the Express Lift Ticket Pick Up. You can pick up your tickets the day before to beat the crowds at Village Guest Services until 8 pm daily. Sightseers, please upload Blackcomb Gondola for the best guest experience.
If it's going to be a hot one, head to the Garbanzo Zone as it will be cooler up higher. There are also misters in the main Fitzsimons line up when the sun is in full force.
We've said it before, and we'll say it again, there will be trail closures. We do our best to keep as much of the mountain open and ripe for shredding but due to a lift construction project in Creekside and a course reserved for competitions, we do have daily closures to be mindful of. Please become friends with our Trail Status web page and read the section below titled "Accessing The Riding Zones."
Bike rentals will be popular, don't forget to reserve ahead of time by visiting our online bike rental web page.
Parking will be available in Day Lots 3 and 4 as well as 6 and 7 in the upper Blackcomb Lots. To access the Whistler Village from the upper lots, the Excalibur Gondola will be running during normal hours from August 6th to 14th 2022. Lots 1,2 and 8 will be completely closed for parking. Additional FREE parking is located in Creekside's underground parking lot. There is a FREE bus service to get you into the main Whistler Village where all of the events take place. For more parking options and information please visit the RMOW Parking Map.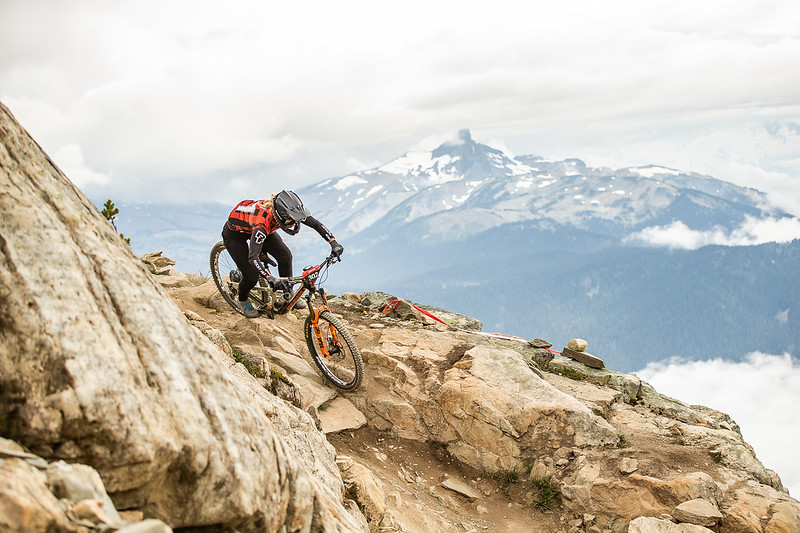 ACCESSING THE RIDING ZONES
Fitzsimmons Zone can be reached via the Fitzsimons Express chair lift, a 4-seater chair with alternating human-to-bike chairlifts or the Whistler Village Gondola Mid Station Stop, both are accessed from the base of Whistler Mountain. Running daily from 10 am – 8 pm during Crankworx. You'll find access to a variety of trails for all abilities in this zone. Please be mindful that there will be trail closures during Crankworx for competitions, you can find daily openings and closures by visiting our Trail Status web page. Bonus – misters are deployed in the lift line on hot days to keep our riders cool.
Garbanzo Zone is serviced by the Garbanzo Express chairlift located above the Fitzsimons Express or via the Whistler Gondola Mid Station. The lines are often shorter here and the temperature is often cooler. There may be periodic trail closures related to lift construction check our blog or lightboards for the latest info. Additional Crankworx-specific closures may occur, please reference the Trail Status web page.
Creekside Zone is a no go this year. There is ongoing lift construction in the Creekside zone, the trails are closed, for your own safety please respect trail closures.
Top of the World Zone hosts our alpine tech trails and wildly epic views. Not for the faint of heart, Top of the World is a demanding descent with rewarding views. To access, you upload the Whistler Village Gondola to the top, then traverse to Peak Chair Express and upload. To avoid getting hung up in the Creekside closures you'll need to ride out on the designated route, Midgard, South Park, Earth Circus, and cut over lower Dave Murray to the right of Legends. Please note that a special lift ticket is required for Top of the World and inventory is related to daily construction status – please reference our Trail Status web page.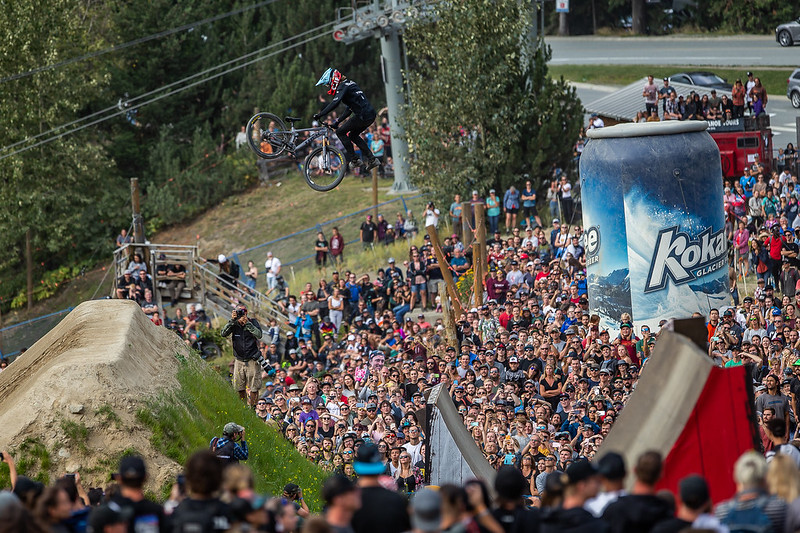 SCHEDULE OF EVENTS
Options galore. With the schedule so stacked, you'll have to choose your daily favourites. Crankworx has a thorough breakdown of the day-to-day, so consider this the daily breakdown of fan-favourite events.
SATURDAY, AUGUST 6TH 2022
EWS Whistler (location: TBA)
SUNDAY, AUGUST 7TH 2022
EWS Whistler (location: TBA)
Liv Women's Only A-Line Session – Whistler Bike Park
MONDAY, AUGUST 8TH 2022
Crankworx Whistler Air DH: Race – Pro Divisions- Whistler Bike Park
TUESDAY, AUGUST 9TH 2022
Specialized Dual Slalom: Pro Finals – Whistler Bike Park
Deep Summer Photo Challenge – Whistler Olympic Plaza
WEDNESDAY, AUGUST 10TH 2022
Ultimate Pump Track Challenge: Pro Finals – Whistler Bike Park
THURSDAY, AUGUST 11TH 2022
Adaptive MTB Jam Session – Whistler Bike Park
CLIF Speed & Style Whistler: Pro Finals – Whistler Bike Park
Dirt Diaries presented by SWATCH – Whistler Olympic Plaza
FRIDAY, AUGUST 12TH 2022
Official Whip-Off World Championships presented by POC, Crabapple Hits – Whistler Mountain Bike Park
SATURDAY, AUGUST 13TH 2022
Red Bull Joyride – The Boneyard, base of the Whistler Mountain Bike Park
SUNDAY, AUGUST 14TH 2022
Kidsworx Dirt Pump Track Challenge: Finals – Whistler Bike Park
RockShox Canadian Open DH – Whistler Bike Park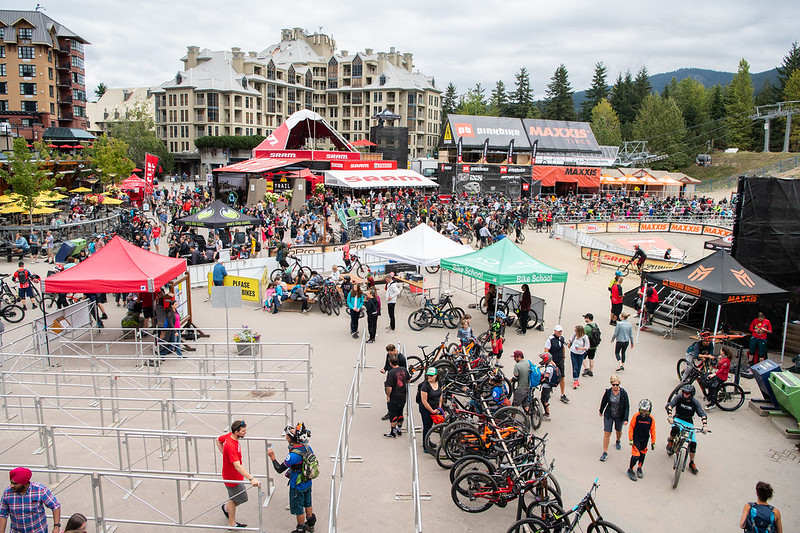 THE LOCAL'S FAVOURITES.
Speed & Style is the ultimate mashup between slopestyle and dual slalom. This intense head-to-head race format is a thriller! Access for the course is located near the Whistler Tube Park on Blackcomb Mountain. The Excalibur Gondola located in the main Whistler Village will take you to the respective area and signage will lead you right to the course!
Redbull Joyride happy ten-year birthday to you! A fan favourite and there's no doubt about it. Staring up mountain from the base of Whistler Mountain your head will do backflips trying to wrap your head around how anyone could possibly link such monstrous features together – let alone backflip, spin, drop and glide the course with grace. Decorated Canadian Rider Brandon Semenuk has undoubtedly carved a name for himself at the event and this year he's literally helped carve the course back. Alongside trail builder Justin Wyper, the two created four features completely mixing up any sort of "normal" and we can't wait to see! And locals, well they can't wait to see Semenuk dance his way down the course. We're expecting over 35,000 fans to flood the course, so snag your place early!
Whipoffs, the Official Whip-Off World Champion that is! It's going to be one heck of a show. What could be more entertaining than watching the world's best, huck their bikes upside down and from side to side in one jump after another for the judges and the crowd? The energy is eclectic and surely one you won't want to miss.
Crankworx Expo is free and starts at 10 am daily on the Village Stroll in Whistler Village. The Expo gives the biggest names in mountain biking and our sponsors a chance to showcase their stuff. Whistler Village comes alive with the vibrant tents and interactive displays of all the industry heavyweights. For all the latest information on products and services, you've gotta check out our Expo!
Crankworx Tech and Demo Zones are where the most respected brands in the industry will have their newest Trail, DH and Freeride bikes on display and available for you to take out on the trails. After you check out the Demo Zone, stroll over to the Tech Zone, where bike savants wrench on prototype bikes, interacting with riders as they chill at their team trailers between training runs and races. Both Tech and Demo Zones open daily at 10 am located in Day Lots 1 and 2 in the Whistler Village. Note that the event is free, but credit cards are required for demos. More info here.
Mountain Top Feast is a drool-worth event! Taking place Friday, Saturday and Sunday all summer long you can partake in an obsolete feast from the top of Whistler Mountain surrounded by 360-degree views at sunset – absolutely magical.
There's more, there always is! For details on all pro events, Kidsworx competitions, after-parties, and more stay tuned to: https://www.crankworx.com/festival/whistler/
Going to miss an event or two? We'll miss you! Some good news for our friends at work, Redbull TV and Pinkbike will be covering a few events. It's worth checking to see which events will Livestream, which events will have recaps and which one's won't be recorded at all so you can plan your work schedule accordingly, wink wink.
Wishing you the best of the best Crankworx!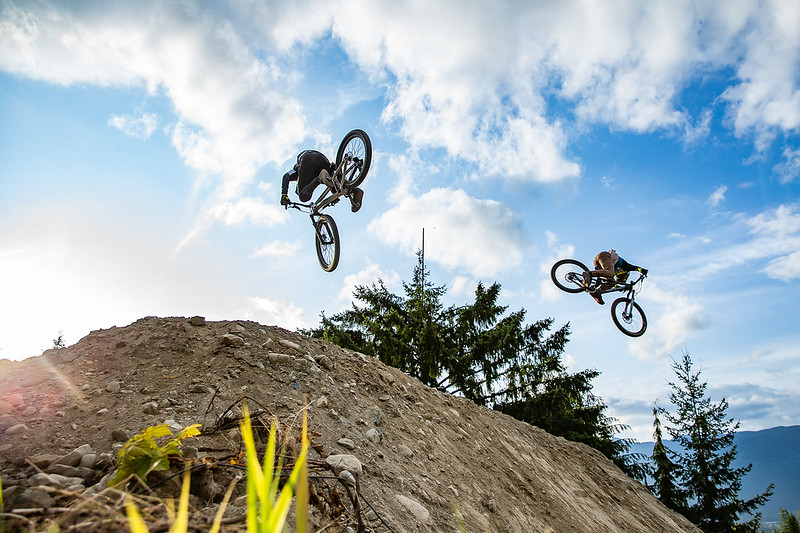 PS. Don't forget the swag, available in the Whistler Village at Mountain Square and online.