If you're making a bucket list of ski resorts, Whistler Blackcomb should be on it. It's one of the best international ski resorts for skiers of all levels.
Whistler Blackcomb is among the best international ski resorts in the world. Ski resorts abound throughout North America, but Whistler Blackcomb, located in Whistler, Canada, is one of the largest. It's just two hours depending on traffic from Vancouver by car and accessible by bus or a shuttle from the airport if you're flying into Vancouver.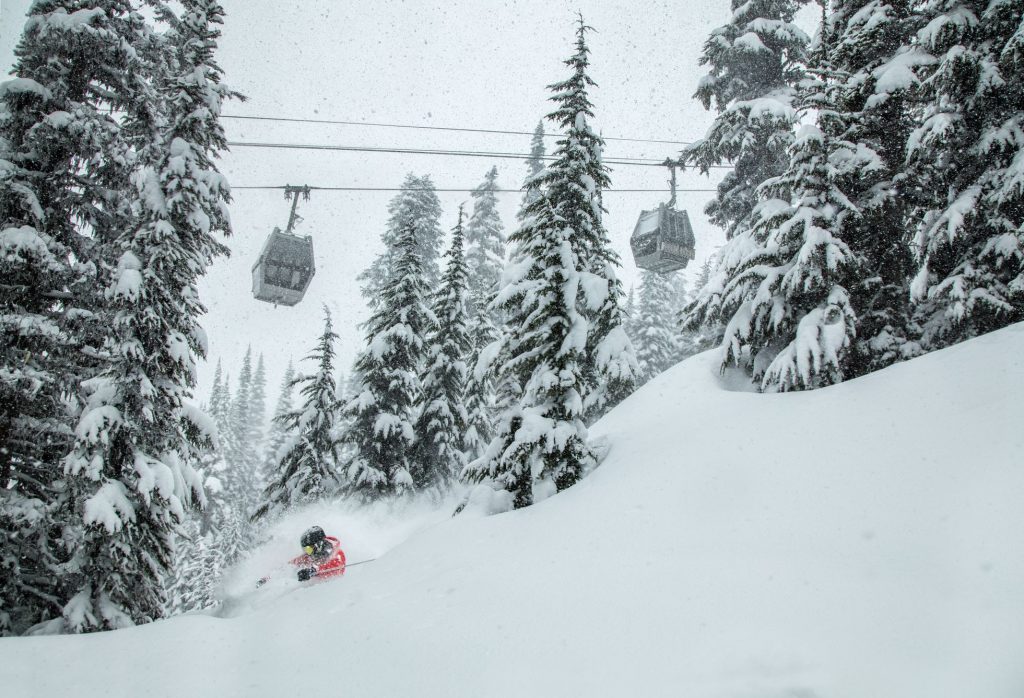 Enjoy Sunrise Skiing
You haven't lived if you've never carved turns down a mountain while the sun slowly rises. This experience is a rare opportunity to make first tracks in new powder as the sky lights up over Whistler Mountain. You'll need a special ticket for the trip, and it includes a food and beverage voucher to be used any time throughout that season.
The bonus is the quiet — no lift lines — and the thrill of cutting the newly groomed cord or slashing powder ahead of everyone else. This sells out fast, so you'll want to book ahead.
Try Heli-skiing
Anyone who hasn't tried Whistler heli-skiing is missing out. Not only do you get a trip up the mountain in a helicopter, but you also get a whole new area to explore.
The flight gives you wonderful views of the area and is truly a once-in-a-lifetime experience. Once you're dropped off, you're in a massive space of pristine, virgin terrain. The heli-skiing part of the mountain is 50 times the size of Whistler Blackcomb mountain.
Whistler Offers Nordic/Cross Country Skiing
Once a common way to get around in the snow, many downhill skiers have never tried cross-country skiing. The narrow skis take time to get used to, but it's fun to explore areas that aren't accessible to downhill skiers. Whistler, as one of the top-rated ski resorts in the world, offers plenty of trails and gorgeous scenery for cross-country skiing adventures, so take your time and enjoy.
It's Home to the Longest Zipline in Canada and the U.S.
The Sasquatch® zipline is over 2 km long, making it the longest in Canada and the U.S. It runs between Whistler and Blackcomb mountains, which means you get some incredible sights on the way over. It's estimated that you have a 10% chance of seeing one of the many black and grizzly bears in the area, and there's plenty of other wildlife to enjoy.
While on the zipline, you'll hit speeds of up to 100km/hr or even higher as you soar over the old-growth forest. The line shoots along about 183 m above the forest, so you'll truly have a birds-eye view. The entire trip takes one full minute and is the fastest method of traveling between the two mountains (you can take the PEAK 2 PEAK Gondola if you want to make the trip last longer).
*Note: This zipline tour is only available in the summer months.
You Can Try Bobsledding
Bobsledding is a unique sport that not many people have tried. But if you love speed, flying along the track at up to 125 km/hr might be a dream come true. Zooming around corners, you'll get hit by up to 4 g-forces, which makes for quite the experience. If you're interested in trying your hand at bobsledding, you can jump right in at the Whistler Sliding Centre above Blackcomb Mountain.
Go Dogsledding
Dogsledding may not be a popular method of transportation these days, but it's still a fun way to get around. Whistler is one of the few places you can enjoy dogsledding just like they used to do it. You'll get a full lesson on handling the dogs and the dogsled before you head out with a guide (called a musher) to ensure you don't get lost. It's a unique experience that you'll want to try. 
Watch (or Participate In) a Race
Ski races are a common event at Whistler Blackcomb. If speed is your thing, consider signing up to participate in one of the races that occur throughout the winter. For those who prefer to take things slower, watching is almost as fun. You can find out what races are held here.
It Has Incredible Snow Conditions
Whistler Blackcomb gets a ton of snow, thanks to the nearby Pacific ocean. It also boasts a longer ski season than anywhere else in the area. You can expect over 11 meters of snow annually, meaning you'll see plenty of powder days. If you get up early, you can enjoy the fresh snowfall before many other people get to the slopes.
The Terrain is Varied
One reason Whistler Blackcomb is one of the top international ski destinations and always ends up on a bucket list for ski resorts is the terrain. You'll love the powdery bowls, wide forest trails, narrow tree routes, and everything in between. There's something for everyone on these mountains, regardless of their skiing abilities.
Whistler Blackcomb has become one of the best international ski resorts for a good reason: Whistler offers more, and it's uniquely Canadian. It's an absolute must for your bucket list. With so much open space, you can spend weeks here and still have more to explore.