September 18, 2023 – Update
September 5 marked our switch to Fall Operations here at Whistler Blackcomb and we wanted to share another update on Fitzsimmons Express construction efforts, which are progressing nicely. 
 
The installation of all towers, tower heads, and sheave assemblies were completed on September 8.
 
Last week, the straw line was pulled to winch the haul rope into place as well. The straw lines are pulled by hand from the top terminal down to the bottom terminal. Each tower is climbed as the lines are strung up and over on the way down — an impressive task to witness! 
 
This work will have impacts on the Fitz Zone of Whistler Mountain Bike Park until the end of the planned haul rope splice, which is targeted for completion by September 23. If you're riding the park, please obey all signage and closures.
 
Down at the return station at the base, final tasks are underway. The load station required extensive excavating and our teams removed 7,000 cubic meters of earth — equivalent to 107,692 full wheelbarrows or 467 rock trucks! 
 
We're stoked to be opening Canada's newest 8-person chairlift this winter! 
 
The Jersey Cream project is also bustling with activity. As a reminder, this lift will be upgrded from a 4-pack to a 6-pack in summer 2024. Our teams have made progress pouring foundations for towers and are expected to complete this for 11 out of a total of 15 this fall. This will be a big time saver next spring/summer when the replacement work kicks off.
July 19, 2023 – Update

July 1, 2023 marked the halfway point for our ongoing summer lift construction project. (In case you missed it, we're upgrading Fitsimmons Express from a 4-pack to an 8-pack!) Once completed, this new lift will significantly reduce wait times and increase uphill capacity in winter and summer, providing even greater access to our bike park with five riders per chair! Here's a few of the major accomplishments we've recently checked off the list:
Construction teams are on target to complete all concrete work within the week.
Pads for lift huts and genset (for power and backup electricity) are now complete.
The top and bottom station enclosures are finished.
Almost all tower footings have been excavated and formed with concrete poured (only towers 7 and 8 remain).
Of the towers we have on hand, only 7 and 8 remain to be installed, which will be completed before Crankworx. Aside from this, we're awaiting additional required new towers to arrive from Austria via Montreal. These will be installed when they arrive, just after Crankworx.
Excavation work to make space for the larger lift structures is ongoing with 7,000 cubic meters of earth removed at the load station and 1,000 cubic meters at the drive station (with 1,500 cubic meters removed for the previous lift's lower mast removal).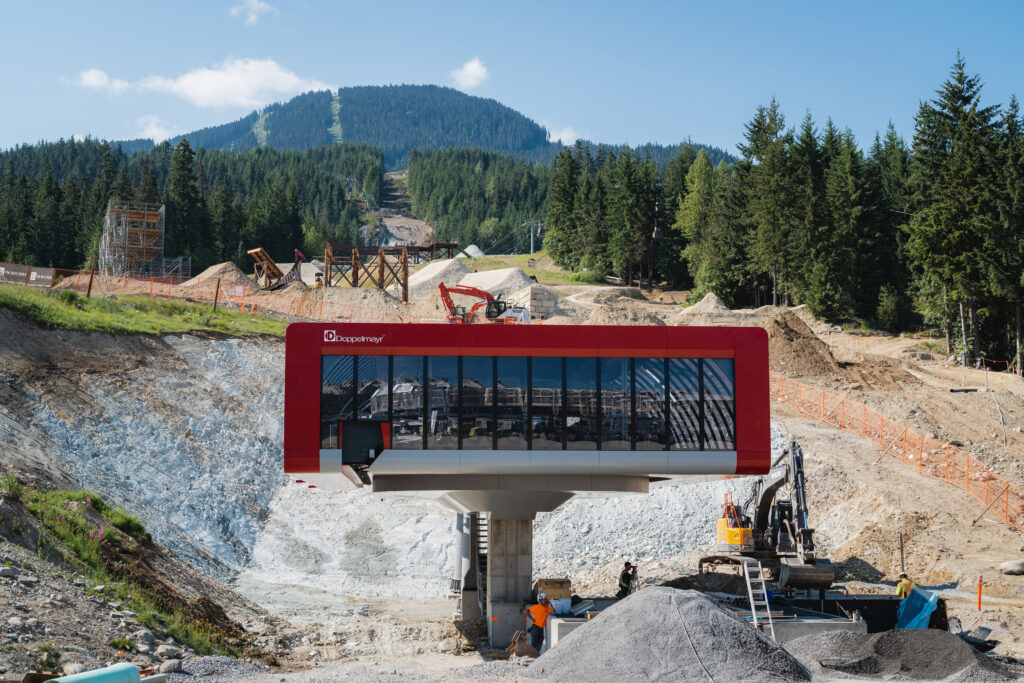 Guests continue to share positive feedback about bike park operations despite construction. With Creekside in the mix this year and rider-only uploads out of Whistler Village Gondola, lines are moving very efficiently.
There's still a great deal of work still to be completed throughout summer and fall. Here's a snapshot of what's coming up:
Prewiring work for tower heads will begin shortly. Our teams will start erecting towers in mid-August.
The haul rope for the new lift is scheduled to arrive in mid-September, allowing ample time for installation to take place before opening day of Winter 2023/24 operations.
Jersey Cream planning work for Summer 2024 is underway as well. In case you missed it, this lift will also be upgraded – it will go from a 4-pack to a 6-pack chair.
June 26, 2023 – Update
We're pleased to report that Whistler Mountain Bike Park operations are running smoothly in light of ongoing Fitzsimmons construction to upgrade the lift from a 4-pack to an 8-pack.
Overall. guests have been happy with our operating plan, which prioritizes rider-only uploads via Whistler Village Gondola for the duration of the summer. Sightseers must upload via Blackcomb Gondola. This has alleviated pressure and lines in the village which gives our guests more time to enjoy the trails (and get those A-line laps in). Creekside Village also provides another upload option!
"The Village gondola upload system is surprisingly efficient and seems to be faster than the Fitz chair, trails are running good too, good start to the season, thanks."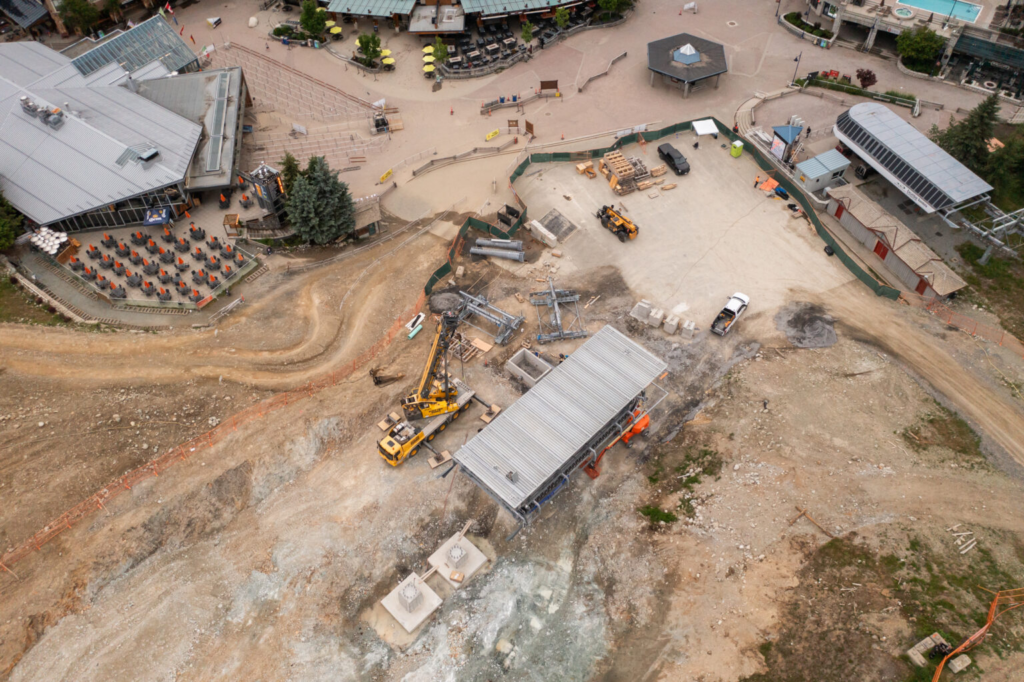 Construction project milestones:
The lift's return station in the courtyard is nearing assembly, with wiring and control installation work still to be done. Also, grading at the return station is nearly complete, outstanding work here is to excavate near Garibaldi Lift Co for a retaining wall that will be going in shortly to maintain the edge of the ski run.
Concrete pouring: Tower 16 will be poured June 23. Also, at the top the lift hut walls, drive hut footings and generator set pad will be poured June 26. This leaves Towers 6 and 7 to be excavated, formed, and poured – which will complete all concrete work.
Starting June 26, a crane will begin work on the top (drive) station to start assembling the large structural components that make up this part of the lift. We expect this work to be ongoing for two weeks.
Lift tower sections are currently being assembled in Lot 8 and will be staged near sites to be craned or flown into place once required.
We also have a revegetation process planned to plant native species in areas where the vegetation cover has been disturbed and to stabilize the land surface from erosion.
---
May 29, 2023 – Update
Fitz Construction Update!

Work continues for our upgrade to Fitzsimmons Express at the base of Whistler Mountain. Our construction teams have poured the concrete slab (shown here) for the loading conveyor drive mechanism of the lift. We've also recently completed pouring the vault's upper walls, on top of which a loading conveyer carpet will sit. This conveyor carpet will seamlessly move guests forward in a line to the load point, helping to organize skiers and riders efficiently for an 8-person lift.

Additionally, we have a couple of notable upcoming project milestones to share:

• The form build for the concrete slab and columns for the drive station footings started last week. Once this drive station form build is completed, we are scheduled for significant concrete volume pours, targeting this Wednesday.
• We are aiming for June 1 to have Doppelmayr begin erecting steel in the terminal.

Finally, we have some important safety notes to pass along: Those rock trucks you may have seen at the construction site will be reduced in travel starting this week. There may still also be concrete trucks in the area. Please be aware that they cannot stop on a steep incline. Safety continues to be our top priority and we ask that you continue to be mindful, obey all signage and stay clear of construction zones and personnel.
Watch the video here!
---
March 28, 2023 – Update
Construction for our upgrade to Fitzsimmons Express kicks off this week and we wanted to provide you with an update. Tomorrow, deconstruction will begin, including the removal of carriers. Given this, there are some important pieces of info to be aware of if you're planning to ski or ride at Whistler Blackcomb in the coming weeks.

1.) Please be mindful of the construction zone, look out for signage, and respect any closures along the ski out.

2.) When planning your day, please consider uploading via Blackcomb Gondola or at Creekside to avoid the construction zone.

3.) Fencing will be prominent throughout the area and have an impact on guests' ability to ski out. Consider downloading from Village Gondola Olympic mid-station as an alternative option if you're a beginner.

4.) Due to the construction zone, guests will no longer be able to access Skier's Plaza from the Blackcomb side. Instead, guests will be directed to the bus loop on Blackcomb Way.

5.) On Whistler, fencing will run under Fitz resulting in a more narrow ski out. Please be aware and slow down as congestion is expected because of this.

6.) At some points, we will need to close trails/ski outs entirely, meaning guests will need to download as a result. We will provide notice of this across our channels. Follow Whistler Blackcomb Mountain Ops on Twitter for timely operational updates.

This project is significant and complex – and we're committed to keeping you informed throughout the process. Our blog (blog.whistlerblackcomb.com) and social channels will be regularly updated with new information as construction moves along throughout summer. Stay tuned!
---
March 9, 2023
While we still have plenty of winter left ahead of us, we also want to share a quick update on our lift upgrade projects scheduled for this summer.
Pending final permitting, our plan is still to upgrade Fitzsimmons Express this summer. Unfortunately, our lift manufacturing and install partner, Doppelmayr, has informed us they cannot complete both Fitz and Jersey Cream Express this summer due to their labour and resource constraints. As a result, we will be pushing construction on Jersey to summer 2024, to be complete for the 2024/25 winter season, subject to regulatory approvals. The existing Jersey lift will continue to spin next winter without interruption.
We plan to begin disassembling Fitz later this month, with construction scheduled to begin shortly thereafter. We will also begin prep work on Jersey this summer, which will expedite installation/construction in 2024.
We are committed to working closely with Doppelmayr to ensure that the construction, installation, and testing of Fitz moves ahead safely as planned. You can also expect regular progress updates on our social channels along the way.
We will have more details to share soon, but in the meantime, you can find an update on summer operations on our website here. For Bike Park info and operating hours, click here.