What a whirlwind first week – I could not be more honoured to be here as I step into this new role. As I reflect on my first nine days here, I'm filled with excitement for all that is to come, and I'd like to share a few thoughts about the impact of these initial days. First of all, I want to thank everyone – the Whistler Blackcomb team and the community – for such a warm welcome. What is clear is everyone's shared love and passion for these mountains, and it's been a pleasure to be immersed in that spirit.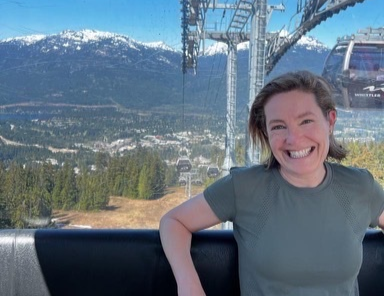 I also had the opportunity to spend time learning about the history and importance of these lands as the shared unceded territories of the Lil'wat Nation and the Squamish Nation. I am immensely grateful for the chance to begin my learning journey here with the guidance of each Nation, and am committed to listening and learning, always.
One of the biggest things that has truly moved me over the last week is seeing the Whistler Blackcomb team in action. I can tell you that what I have seen so far has been nothing short of exemplary – especially with last Friday's opening of the Whistler Mountain Bike Park! Speaking of which – if I have to look at one day in my first week and say "ok, this was the standout," it was easily Whismas! To be amidst the stoke with the team and riders alike was spectacular. A huge shout out to the Bike Park Crews, Lift Maintenance, and Lift Ops for the extra care to build trails around the construction zone and to create a smooth loading process for four bikes into the Whistler Village Gondola – no small feat.
I am still processing all of the experiences and learnings from week one, and I look forward to continuing to meet members of our team here and more members of the community. More than anything, I really am just so happy to be diving right in as I immerse myself in all things Whistler Blackcomb!
I'll also plan to share some thoughts from time to time as I continue to settle in – and if you see me on the trails or around town, please don't hesitate to say hello!
Cheers,
BT