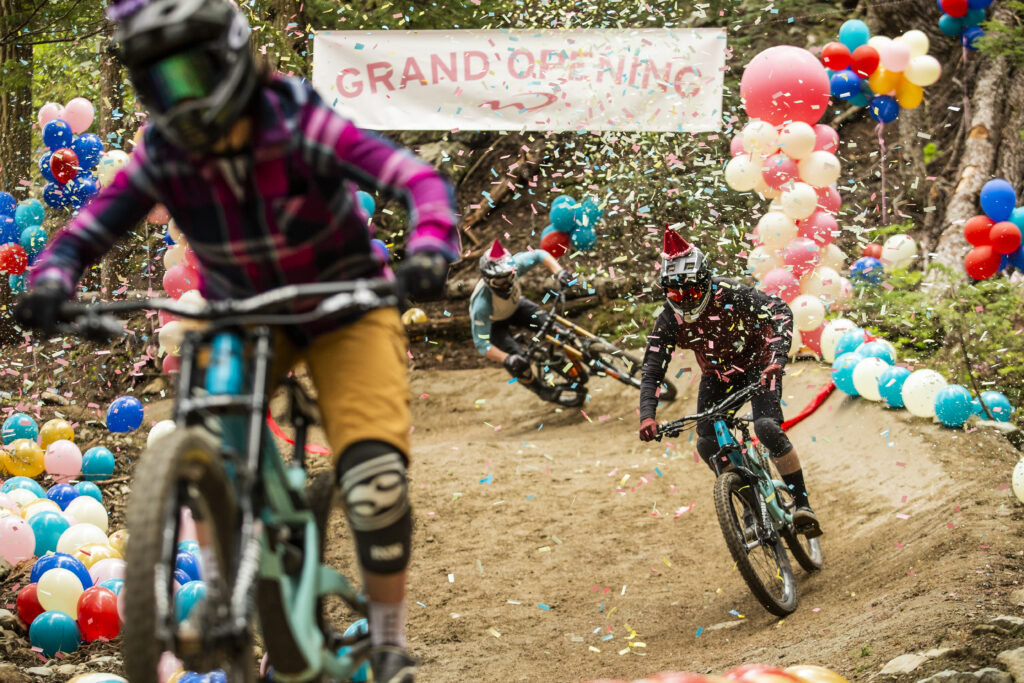 After a year-long hiatus, Whistler Mountain Bike Park's Creek Zone reopens for guests this Saturday, June 10 at 10am. With 11km of new and expanded trails, there's a ton to look forward to. Also opening on June 10 is Garbanzo Zone, bringing open-air lift access and fan-favourite trails back for riders. More details and what to know below!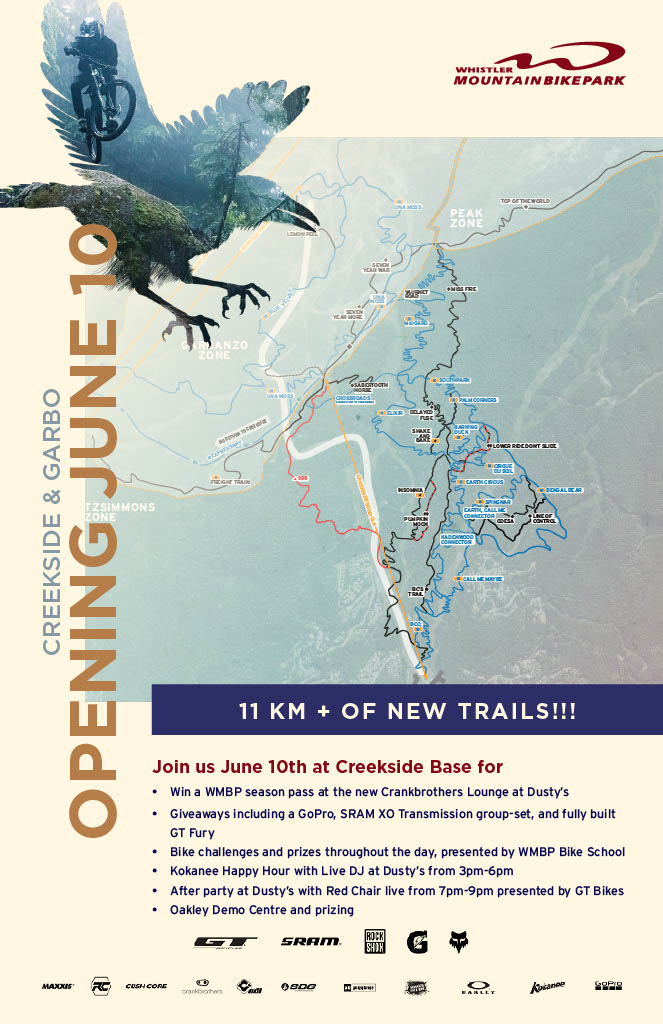 #YearOfTheCreek – Let the Party Begin
This Saturday, the Creek and Garbanzo Zones of Whistler Mountain Bike Park (WMBP) will re-open for riders, bringing nearly 40 additional trails back online for the 2023 season!
We invite guests to join us for a celebratory kickoff event at the Creekside Base, which will be buzzing with activity throughout the day. This area of WMBP features 11km of new trails, all accessible via the upgraded high-speed Creekside Gondola. After a year-long hiatus, riders will once again have access to expanded intermediate and advanced terrain. With an abundance of new and improved offerings, it truly is the #YearOfTheCreek!
To make the day even better, WMBP brand partners will be onsite to celebrate with prizing, giveaways and après all day long!
Riders will have a chance to win a complimentary season pass at the new Crankbrothers Lounge at Dusty's. Also up for grabs: a GoPro Hero 11, SRAM XO Transmission group-set, and a fully built GT Fury. On top of this, there will be fun bike challenges throughout the day, presented by WMBP Bike School, as well as an Oakley Demo Centre for product testing.
Kokanee will be keeping the party going at Dusty's from 3pm to 6pm with happy hour featuring a live DJ! And be sure to stick around for the afterparty with Red Chair live from 7pm-9pm, presented by GT Bikes.
What Trails Will be Open in Each Zone?
Creek Zone:
Blue
Cirque Du Soil
Earth Circus
Palm Corners
Barking Duck
Bengal Bear NEW
Spingnar NEW
Call Me Maybe NEW
Black
Delayed Fuse
Insomnia
Shomer Shabbos
Line of Control NEW
Double Black
Sabertooth Horse
Pumpkin Moon NEW
Garbanzo Zone:
Green
Blue
Lower Blue Velvet
Upper Blue Velvet
Blueberry Bathtub
Expressway
Little Alder
Weasel Juice
Black
Duffman
Lower Freight Train
Upper In Deep
Lower In Deep
More Duff
Lower No Joke
Original Sin
Too Tight
Lemon Peel
Double Black
Captain Safety
Drop-In Clinic
Fatcrobat/Gordo
Goat's Gully
Proline
Zone Maps for the 2023 Season