As you walk around Whistler Village, a warm cup of coffee in hand is a must. Not to mention, exploring new coffee shops is an exciting part of a mountain vacation. If you're planning a trip to Whistler Village, you'll need to know where to find your morning cup of joe.
During your next visit, check out these six best coffee shops in Whistler Village. Many of these coffee shops or cafes also double as great breakfast or lunch spots.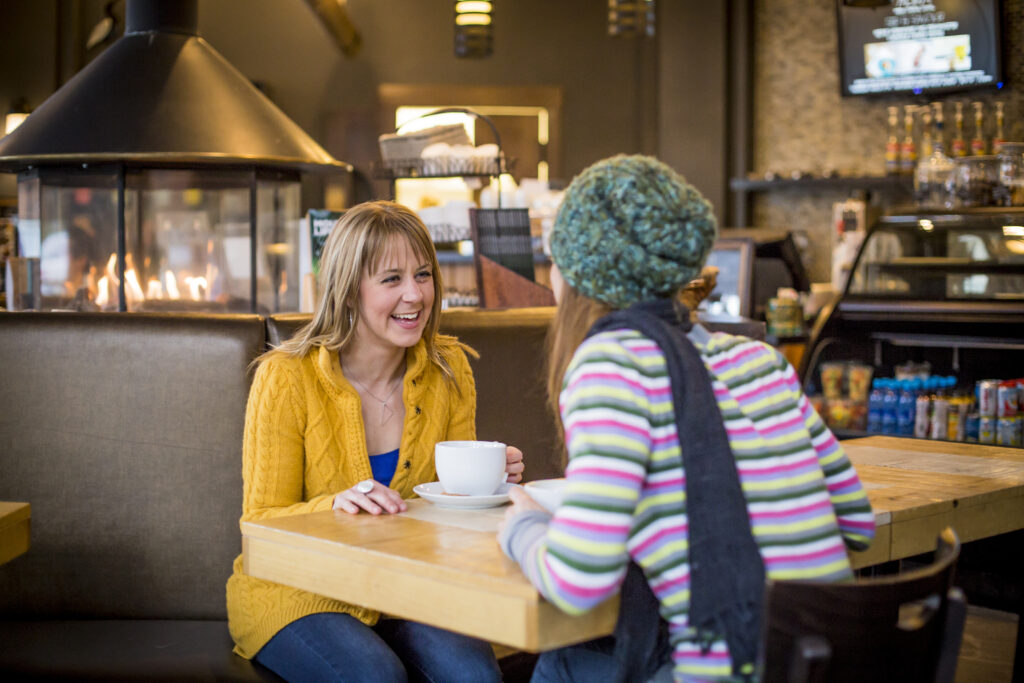 1. Lift Coffee Company
Lift Coffee Company is known for some of the best Lattes and Flat Whites in Whistler Village. In addition to classic drip house coffee, you'll find dozens of delicious coffee drinks to choose from. Even better, all hot, iced, and blended beverages can be customized to your specific taste preferences. This quaint coffee shop also offers a unique "adult menu" featuring Lattes with Bailey's liquor and other fun alcoholic drinks.
While their coffee drinks have earned Lift Coffee Company its reputation as one of the best coffee shops in Whistler Village, they also offer exceptional breakfast and lunch offerings. Offerings include light breakfast options such as granola and yogurt or savory lunch sandwiches. Another great feature of Lift Coffee Company is its heated outdoor tables, allowing guests to comfortably dine outside any time of the year.
2. Thunderbird Cafe
Thunderbird Cafe is amongst the most unique coffee shops in Whistler Village, featuring an Indigenous-inspired menu made from local ingredients. Located within the Squamish Lil'wat Cultural Centre, the Thunderbird Cafe is a great place to stop for a cup of coffee before exploring the museum's exciting exhibits. No matter what time of year you visit Whistler, there's always an event or experience happening at the Cultural Centre. However, Museum admission is not required to visit the Thunder Cafe, as it is located in an admission-free area.
Notable menu offerings include Fair Trade Spirit Bear Coffee, as well as four Latte flavours. This small cafe also offers hot chocolate, organic teas, and a small menu of light food selections. On your next trip to Whistler, stop by the Thunderbird Cafe for the freshest cup of coffee in town.
3. Ecologyst Cafe
Grab an organic cup of coffee at Ecologyst Cafe, a health-conscious coffee shop located in Whistler Village. No matter which coffee drink you order, you'll taste the freshness of the best coffee in Whistler. Traveling with someone who isn't a big coffee fan? Not to worry. Ecologyst Cafe offers many other hot beverages, such as Chai Lattes and Hot Chocolate.
This cafe also offers several healthy breakfast options, including vegan, vegetarian, and gluten-free selections. Whistler Village visitors will love trying a build-your-own-toppings waffle while enjoying a cup of coffee.
4. Blenz Coffee
Voted the home of Whistler's best coffee and hot chocolate, check out Blenz Coffee for your caffeine fix. The founders of Blenz Coffee prioritize quality, using only the finest ingredients in their coffee and tea drinks. Their top-rated coffee is sourced from around the globe, offering variety and quality in every cup. In addition to an extensive menu of hot and iced coffee drinks, Blenz also creates protein smoothies with fun fruit flavours.
The atmosphere inside Blenz Coffee is clean and bright, creating the perfect space to talk amongst friends. The floor-to-ceiling windows provide a spacious and airy feeling that will leave you in a great mood. While enjoying your cup of coffee inside, guests can enjoy great views of Whistler Village.
5. Alpine Cafe
Since 2004, Alpine Cafe has remained a staple in Whistler for a great cup of coffee. Their menu features classic drip coffee in three sizes and several other coffee drinks like espresso shots and cappuccinos. Open daily, Alpine Cafe is a spot you can count on for a fresh cup of coffee any day of the week.
The Alpine Cafe also has an exceptional breakfast, available daily from 8 a.m. to 2 p.m. If you get a late start waking up on a vacation morning, don't worry. Stop by the Alpine Cafe to enjoy coffee and breakfast to start your day off right. Breakfast offerings include wraps, scrambles, bagels, and more.
6. Naked Sprout Cafe
Located in the heart of Whistler Village, Naked Sprout Cafe is another excellent choice for visitors looking for coffee shops in Whistler Village. The menu at this plant-based cafe includes smoothies, juices, and plenty of coffee selections.
Naked Sprout Cafe is worth a stop if you want to try something different than your usual coffee. Their classic Maple Oat Latte is made from fresh french-press coffee, maple syrup, oat milk, and cinnamon sugar. With a Maple Oat Latte in hand, you'll get the pick-me-up you need to tackle a big day of skiing. For non-coffee drinkers, Naked Sprout Cafe has great tea drinks, including their fresh Immunity tea.
Grab Your Morning Coffee or A Cup On an Afternoon Break
Need help deciding which of these six best coffee shops in Whistler Village to try? With so many great spots around town, you'll never run out of choices to grab your morning coffee. If you're taking a mid-day break, try another Whistler coffee shop for an afternoon pick-me-up. There's never a shortage of exciting new activities and places to explore at Whistler Blackcomb Resort.