With its stunning views, vibrant nightlife and growing food scene, there's no better place to experience a glass of wine than in the picturesque ski town of Whistler. Whether you're looking for a cozy spot to relax after a long day of skiing or an upscale bar to enjoy an elegant evening, wine bars in Whistler won't disappoint. Here are eight options so you can find the best wine in Whistler Blackcomb, be sure to check current hours ahead of time, as they may vary seasonally.
Steeps Grill & Wine Bar
At Steeps Grill & Wine Bar, diners have access to the finest foods and wine from British Columbia. Enjoy a prime rib dinner or sip on one of the state's best wines on-site. They offer a wide selection of both by the bottle and by the glass.
For wine connoisseurs, they also host series such as the Winemaker Après and Winemaker Dinner events, perfect for those looking for a truly unique gastronomic experience.
Steeps is located inside the Roundhouse Lodge at 1,850 meters (6,069 feet) along Whistler Mountain.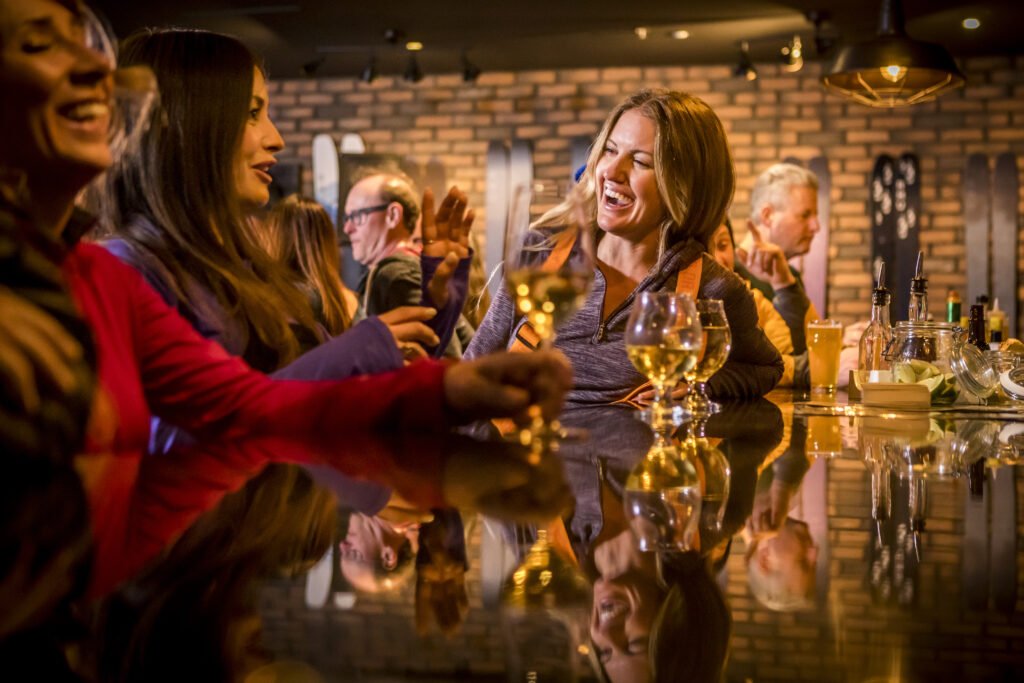 Umbrella Bar
For the wine buff looking for an unforgettable experience, Whistler's Umbrella Bar is an absolute must-see. Also situated at the Roundhouse Lodge on top of Whistler Mountain, this venue boasts stunning panoramic views stretching as far as the eye can see. Enjoy a cocktail while watching the sunset over snow-capped mountains or sample their local wine menu.
British Columbia is a real oasis for wine lovers, thanks to the vastly distinct geographic regions across the province. From rain-drenched islands in the North Pacific and northwestern coasts to dry desert-like valley floors stretching out east of the Rockies, BC's terroir creates ideal conditions for growing an incredible array of grapes used in various winemaking styles. Chardonnay and pinot noir are staples in this varied region, as well as riesling and several reds, such as cabernet sauvignon and merlot.
Bearfoot Bistro
If you're looking for the best wine in Whistler Blackcomb, you could very well find it at Bearfoot Bistro. Located in Whistler village at the base of Whistler mountain, this award-winning restaurant offers the most extensive restaurant wine cellar in British Columbia, with more than 15,000 bottles and over 1500 different labels. Wine Director Luc Trottier and his team of sommeliers are on hand to help you choose the perfect pairing for any meal.
But why simply enjoy perfectly paired wine with your dinner when you can make an experience of it? Visit the underground wine cellar and try your hand at sabering a bottle of champagne.
Bearfoot Bistro's wine collection offers something for every palate, whether you're a connoisseur, an aspiring sommelier-in-training, or just a lover of good wine.
Bar Oso
You can't talk about wine bars in Whistler without mentioning Bar Oso, famous for its sangria. This cozy tapas spot also offers a unique and diverse selection of Spanish-style dishes, complemented by an extensive wine list. In terms of sangria, they offer peach sangria, red sangria and a mulled version with cinnamon, orange and dried fruits.
Located in the village square, the bar is also renowned for its hand-crafted cocktails and a lively atmosphere, perfect for intimate conversations.
Behind the dishes is chef Jorge Muñoz Santos, a native of Madrid who learned to cook in his family's restaurant. He has extensive experience at two notable Spanish venues and was formerly a sous chef at another local favourite, Araxi. Whether you're looking for a night out or an afternoon with friends, Bar Oso is sure to add some Spanish flavour with its small plates, tapas, and house-made charcuterie.
Alta Bistro
Alta Bistro is the perfect spot for trying a French-focused wine list with top local and international selections. At this 65-seat bistro, chef Nick Cassettari combines his classic training with the freshest ingredients British Columbia offers to create a menu of locally-inspired modern French cuisine.
The restaurant's industrial-chic vibe makes it ideal for a romantic dinner or just a cozy evening with friends. Choose a table near the large windows facing the street, so you can watch the snow fall as you raise a glass to a perfect vacation spot.
Alta Bistro is located on Main Street in Whistler Village.
Elements
If you're looking for the perfect combination of delicious food and creative drinks, then urban tapas and wine bar Elements is the ideal spot. Their signature brunch dishes provide a unique culinary experience, while their mouth-watering tapas for dinner make it a memorable evening.
For those with a taste for wine, they offer an exclusive British Columbia list, which includes options like Covert Farms Organic Bordeaux Blend and Chaberton Sauvignon Blanc.
Elements is located in Whistler Village North. 
Rimrock Cafe
The Rimrock Cafe offers an extensive globally-sourced wine list including vintages from countries including Italy, Portugal, and Australia. North American wines also feature heavily, with options from BC, Ontario and California.
With attractive mountain views and traditional yet modern decor, the Rimrock Cafe has been a Whistler icon since 1987. It's no surprise that this local gem continuously receives high ratings as one of the best restaurants in town. Chef and owner Rolf Gunther creates sumptuous dishes with some of BC's best fish and game. Start your meal with freshly shucked oysters or seared scallops before indulging in one of their signature main dishes, like grilled salmon with lobster or duck "two ways."
Rimrock Cafe is 3.5km (about 2 miles) south of Whistler Village.
If you're on the hunt for some of the best wine in Whistler Blackcomb, you won't be disappointed. From the Bearfoot Bistro's underground wine cellar to Bar Oso's sangria, there's a perfect pairing for every meal. Bon appetit and happy wine tasting.
Planning a trip to Whistler? Look no further than Whistler Blackcomb for your accommodation needs. With a wide variety of choices, from luxury suites to cozy studios and townhomes, you're sure to find the perfect place for your ideal vacation. Choose from six distinct areas with their own personalities. Plus, with pet-friendly options available, you can bring your furry friends along too.