Visiting Whistler Village offers some of the best snow sports and activities in Canada, from skiing to snowboarding. Before hitting the slopes, don't forget the day's most important meal. Whether you're looking for a lighter fare or an indulgent brunch, Whistler Village offers unique dining experiences for every appetite.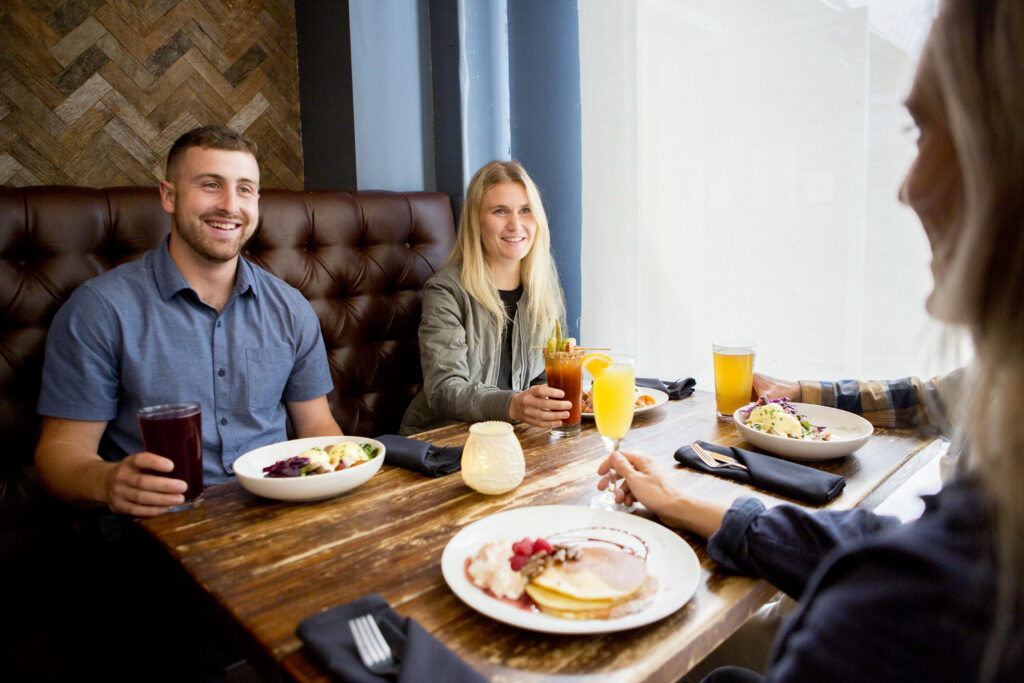 On your next visit, check out these six best spots to grab brunch in Whistler Village.
1. Crêpe Montagne
Crêpe Montagne features a brunch unique to Whistler Village, offering traditional french cuisine favorites such as crepes. Breakfast is served every day until 1 pm, making it a great go-to brunch spot for those late vacation mornings. In addition to classic breakfast options such as omelets and eggs benedict, choose from a variety of sweet or savory crepes.
Brunch is not complete without delicious drink pairings. Pair your French breakfast at Crêpe Montagne with freshly squeezed juices, such as apple, carrot, or beet juice. Mimosa cocktails are also available at this top-rated brunch location. To grab a spot for brunch here, arrive early, as they do not take reservations. Tables are first come, first served.
2. Gone Eatery 
Gone Eatery is another great spot to grab breakfast while visiting Whistler. Located behind Armchair Books in Village Square, don't let Gone Eatery's hidden location fool you. Here, you'll find some of the best brunch foods in Whistler, including classic breakfast meals and sandwiches. Breakfast foods are available daily until 11:30 am.
Looking for healthier brunch options? Gone Eatery has health menu offerings and lighter fare for brunch in Whistler Village. Health-conscious selections such as the veggie breakfast sandwich or Paleo classic meal are great for a lighter start to your day. Visit Gone Eatery for a healthy meal to fuel the day's activities!
3. Stonesedge Kitchen
If you're looking to go all-out for an indulgent vacation brunch, Stonesedge Kitchen is the place to do it. Open seven days a week, brunch is available daily from 9:00 am to 1:00 pm. Known for the best brunch drinks in Whistler Village, you'll need help deciding which to try. From mimosas to espresso martinis, you can't go wrong with any drink at Stonesdge Kitchen. If you really can't decide, give the unique mimosa flight a try, featuring a trio of orange, grapefruit, and pineapple mimosas.
Stonesedge Kitchen's brunch menu offers a wide array of selections, from delicious warm sugar waffles to hearty egg scramble dishes. In addition to providing some of the best breakfasts in Whistler, the atmosphere at this gem is unmatched – a mix of modern and rustic, creating a great place to make memories on your visit to Whistler.
4. Elements
Elements is one of Whistler's most unique spots, offering brunch every day from 9 am to 2 pm. During the day, Elements offers a fantastic brunch that combines American and Canadian classics. Each night, the restaurant transforms into an upscale tapas bar. Feeling adventurous? Try one of their exciting brunch cocktails like the Monte Cristo Coffee, made with Kahlua, coffee, grand Marnier, and whip cream.
Elements' brunch menu features everything you could ever want for breakfast. From frittatas to avocado toast, there's something for everyone at this top-rated brunch spot. Lunch offerings such as creamy soups and savory sandwiches are also available. If you're traveling on the weekends, be sure to arrive early, as this spot is one of the most popular breakfast locations in town.
5. Southside Diner
If you want to keep things simple and grab a quick breakfast bite, Southside Diner is the best choice. Picky eaters will find classic breakfast options, including pancakes, waffles, and more. Friendly staff and big portions keep locals returning to this popular spot for brunch in Whistler Village.
You'll surely remember Southside Diner for their creative breakfast drink names, such as the "Mother's Little Helper," a drink made with espresso, vodka, Kulaha, and Baiulers. Or, pair your breakfast with a "Jelly Donut," a classic mimosa with vodka inside. No matter what you order, you can count on the Southside Diner for an exceptional breakfast to start your day off right.
6. Peaked Pies
Want to try something different on your Whistler vacation? Stop by Peaked Pies for an Australian-inspired breakfast pie. This spot is perfect for grabbing breakfast in a rush, offering premade pies you can eat in the cafe or on the go. The famous "Rise & Shine" pie contains scrambled eggs, bacon, green pepper, and cheese, all mixed within a shredded potato pie crust.
If you're craving something sweeter to start your day, try a mixed berry pie, or an apple crumble pie for an indulgent treat. You'll also find delicious artisan coffee, tea, and espresso offerings at this popular spot for breakfast in Whistler.
Every traveler's idea of the perfect brunch may differ. Whether you're looking for a classic diner breakfast or an indulgent french brunch, Whistler Village has something for everyone. While you're packing for your Whistler Blackcomb escape, don't forget to pack your appetite. Try one of these 6 best spots for breakfast and brunch in Whistler on your next getaway.