You'll have a plethora of Whistler Blackcomb hotel spas to choose from, so why not plan a full day of relaxation? A fabulous hotel spa experience could be the best way to finish your ski vacation and get you ready to head home again.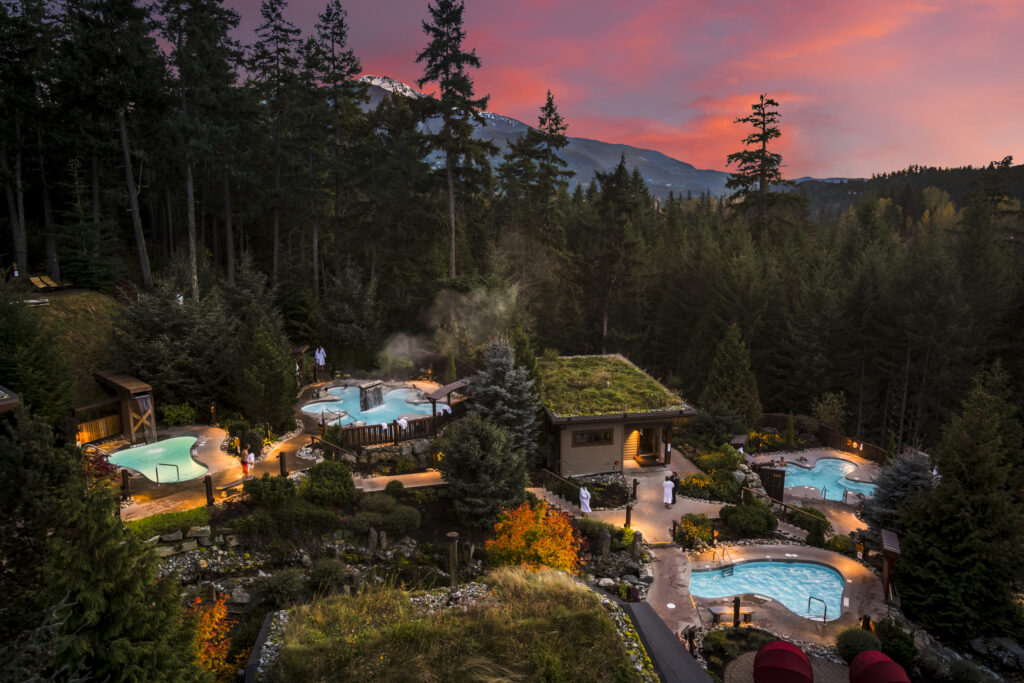 Pick a Date
When do you want — or absolutely need — a just-for-you relaxing spa day? For many people, spa day is one of the last days of vacation, so they can leave the slopes a little less sore and far more relaxed than when they arrived. Once you've chosen a date for your hotel spa day, it's time to decide where you'll have it.
Choose a Spa
Consider exploring multiple spas at Whistler Blackcomb and finding treatments that pique your interest. Trying out a variety of unique spa treatments can enhance your overall experience. However, bear in mind that some treatments, such as facials, can be harsh on the skin if done excessively.
Some of the most popular spas at Whistler Blackcomb include the Four Seasons Resort spa, the Taman Sari Royal Heritage Spa at the Hilton, and The Spa at Nita Lake Lodge. The Westin Spa is another good option. Each has special offers, so you should check them out before deciding. Will you visit one or all of them?
After a day on the slopes, there's nothing like enjoying a Sea to Sky massage at the Four Seasons Resort Spa, with hot rocks and seaweed. Or you might prefer a facial at the Taman Sari Royal Heritage Spa to help prevent and treat windburn and ease the effects of the cold on your face.
Decide On Your Treatments
This can be a tricky step since there are so many treatments to choose from. Most Whistler Blackcomb hotel spas offer their own signature treatments that you'll want to check out. However, most treatments fall into similar categories.
Sauna
Who doesn't love a steaming sauna after a few days on the slopes? This is the perfect way to flush toxins from your system and ensure you're in good health. For a unique sauna experience, The Scandinave Spa in Whistler, gives you a chance to experience a thermal therapy journey . First, you'll enjoy the heat of the sauna. After the prescribed amount of time, you'll jump into cold baths or showers to close your pores after sweating everything out.
Massages
A good massage is the best way to relax at a spa. You'll typically have a menu of different massage choices, which may include:
Relaxing: The masseuse will use a fairly gentle massage to stimulate circulation and encourage the muscles to loosen up. It's gentle pressure that can be increased if you like.
Aromatherapy: Aromatherapy uses scent to add to the experience of a massage. The therapist may use scented oils, incense, or essential oils to provide the aromatherapy massage experience. It can be quite relaxing and stress-relieving.
Swedish: This gentle massage is designed to undo muscle knots and release tension. It involves kneading, long strokes, vibration, tapping, circular motions, and passive joint movements.
Reflexology: Designed to use pressure points on the hands, feet, and even ears, this is a very relaxing type of massage that doesn't require a full-body touch.
Hot Stone: This type of massage uses heated stones strategically placed on the body. The heat helps boost circulation and relieves pain. It's also relaxing and helps ease any stress you might be dealing with. Hands may or may not be used in addition to the stones.
Deep Tissue: If you're dealing with muscle pain and tightness, which is quite common after a day on the slopes, you can enjoy a deep tissue massage to get those kinks worked out. This type of massage is more intense and uses considerably more pressure, but it should not be painful.
Sports: A sports massage is ideal for repetitive movement injuries. It helps increase your flexibility and reduces anxiety and muscle tension. This type of massage is also helpful in relieving pain and improving your skiing performance.
Trigger Point: If you have a specific point on your body that causes pain elsewhere, you may need a trigger massage. This requires intense, targeted massages to loosen the knots deep in the tissue that cause the problem. 
Many spas offer other treatments to help you relax, such as facials, manicures, or pedicures. Most offer packages so you can enjoy multiple options. Ask what makes them unique. For example, the Four Seasons Spa has an aprés mountain massage designed to ease those ski-related aches and pains.
Book Your Appointment
With your list of treatments in hand, you can now call the Whistler Blackcomb hotel spas to make your appointments. If you plan to do multiple treatments, ask about the packages they may offer. Sometimes it's better to go for a full package than piecemeal treatments, depending on your needs and preferences.
What to Wear for Your Whistler Blackcomb Spa Day
You'll want clothing that can easily be shed for the massage. If you plan to do the sauna or any thermal or water therapy, wear your bathing suit under your regular clothing and bring a waterproof bag for it. Some spas offer robes to wear after your sauna. Otherwise, you can change back into your regular clothing.
You just need to show up and enjoy your carefully planned spa day. You'll go home completely relaxed and ready to get back into the swing of things with a renewed outlook and a smile.